Theatre
Tim Treanor reviews his life as a theatre critic
After death, two professionals spring into action. The undertaker applies makeup, and puts formaldehyde in the veins, so that the forgetting may begin after a celebration. If the undertaker is successful, the deceased will float into the corner of your brain which holds Uncle Gus, who died when you were eight and who you didn't know all that well, and that kid who beat you up in the parking lot, and died twenty years later of an overdose. The lawyer's task, on the other hand, is to keep the memory of the deceased alive, at least for a period of time. "Remember me!" says the ghost of Hamlet's father, and so the lawyer intones (probably to himself; will readings are rare these days), "the rest, residue and remainder of my estate I leave to the Bank of Elsinore in trust for my son Hamlet, with income to him for life and the trust corpus upon his death to go to the Royal Danish Society," or some such. With these seemingly nonsensical words Hamlet's father is kept alive, in this limited way, for fifty years or more.
I am – was – the lawyer for DC Theatre Scene, and have the melancholy task of closing the house. I had long retired as a critic, having lost the heart for it, although I still reviewed plays when necessary pursuant to the in-house counsel's first rule, which is not to let the house burn down. "Closing the house" describes a legal and ministerial task, but also a surprisingly physical one: putting an enormous pile of undifferentiated theater programs into some sort of order.
Here it is, fifteen years old, stained with coffee and torn at the corner – Experiment with an Air Pump, produced by Journeyman Theatre, now deceased. It was the first show I ever reviewed. I had been conscripted for the task by my dear bride. We had been married ten years but she still had —  and I am being very understated here – the capacity to surprise. A week previous she had gone to see this same show. I was not interested and so stayed home. I went to bed at ten and woke up at midnight to see the other half of the bed undisturbed. I returned to a troubled sleep and woke up an hour later. No Lorraine. Well, perhaps I had misheard the title and she had gone to Coast of Utopia instead. But when the house was still silent at three, a dread anxiety settled over me. I called Journeyman, but of course there was no answer. With panic rising, I called, successively, police stations, hospitals, and morgues.
She came skipping in at quarter to six, while I was still on the phone. "I met this amazing man, who has a brilliant idea," she enthused. "We talked about it all night at the House of Pancakes."
The man was Ronnie Ruff – an enormous guy with a shaved head; a sumo wrestler among theater critics. The brilliant idea was DC Theatre Scene, then called DC Theatre Reviews.
Ronnie had designed the site himself and was managing it. And also doing almost all of the reviews. But there was a conflict: Ronnie had agreed to help Journeyman improve its website, and so did not feel he could objectively review their play. So I was force-marched to the task.
I had never reviewed theater before. I was a community theater actor. I was in love with my community theater. I loved getting on stage and feigning emotions. I told my Board of Directors that they should say, "for the price of one show at the Kennedy Center you can get a whole season with us!" I thought community theater was the ne plus ultra of art.
But when I saw professional theater being done by this tiny company, I realized I was seeing…something else. No one was feigning emotions. Everyone was in the moment, even though the two Acts were a century and a half apart.
I was gobsmacked. When I wrote my review I compared the remarkable Karen Allen to Steve Nash, the all-star guard for the Phoenix Suns, who was famous for improving the play of those around him. Thus I alienated the 90% — make that 99% — of theatergoers who are not also fans of the NBA.
Oh, wait. Here's the program for Monkeyboy, similarly dog-eared. It was my second review, at Charter Theatre, which is not deceased but reincarnated as a place to read new local plays. It was a play about a 300-pound talking cockatoo, who said such things as "I require a Ring Ding and a glass of milk." Jim Helein, an actor of size, played the cockatoo. At the beginning of the second Act there was a dream sequence, in which Helein, as the cockatoo, danced. And he danced beautifully. And I realized I wasn't in Kansas anymore.
The assignments, and the shows, rolled out in an astonishing progression. Fair Ladies at a Game of Poem Cards, Rorschach's production of a 400-year-old Japanese play. Two Queens, One Castle, a musical about infidelity featuring a powerful new (to me) actor by the name of Felicia Curry. The Story, where the talents of KenYatta Rogers and his mother, Jewell Robinson, introduced themselves to me. The Dybbuk, a steaming, smoking collaboration between Theater J and Synetic. A remarkable production of The Heiress at Olney.
And on and on it went, through nineteen raves in a row and I began to wonder – had I lost my critical faculty? Was I a reviewer or a gibbering fanboy (and those are the worst kind of fanboys). Would John Simon be saying these things about the plays I was reviewing? Or Peter Marks?
I had actually begun this gig because of a Marks review – long before DC Theatre Scene, of a play at Theater J called The Disputation. Set in the Inquisition, it centered on a debate between a Rabbi – played by Theodore Bickel – and a Jew who had converted to Christianity and become a theologian, played by Ed Gero. The stakes: the Rabbi's life, for starters.  Peter Marks hated it. I thought it was terrific. And when Lorraine started working with Ronnie, she remembered our conversation after the play, and put me to work.
The thing is, neither Peter Marks nor I are stupid. Or closed to theater's possibility. And this is the first thing I learned about reviewing. It is not a proof in quantum mechanics. It is not even an argument in Court. It is the reviewer's opinion, justified under standards he articulates in the review, along with his reasons for those standards. Tastes differ.
Ah – here it is, my first pan. A production of Julius Caesar, done by a company no longer in existence. It was utterly misconceived; the performances were ham-handed and the setting was preposterous. The company had decided to set Julius Caesar in Caesar's Palace, and the play began with Brutus confronting Caesar's ghost (they had moved things around a little) while playing solitaire. I wondered whether the company, if it decided to stage King Lear, would put it in a Lear jet.
I lit into the production with a will. If there was a plebian, spear carrier or stagehand I didn't excoriate, it was just because there were so damn many of them. Then I sat down and waited for the thunder to come from the company. After all, that's the way things are done in professional theater, isn't it? After a bad review, the company says something scathing about the reviewer and threatens the publication. I was ready.
Here's what the A.D. wrote: "I'm sorry Tim didn't like the play."
So I learned my second lesson, which is that one of the characteristics of professional theater is that it's professional. The companies understand that a review, if done in good faith, is not a personal attack but an effort to improve the art, which is an objective shared by both the reviewer and the reviewed. I tried (not always successfully) to apply the same attitude to the comment section, which constituted a review of the review.
Sorry you didn't like my review, "HubbyLove."
I thought that this might be the ratio which carried through my reviewing career – nineteen fine shows to every flop. But among the nearly eight hundred shows I reviewed, I saw real ineptitude only one other time (Fringe excepted) – by a company, also no longer extant, which made an unfortunate adaptation of a nonfiction book. Occasionally I would see a play that didn't make sense, or a performance that failed to persuade me. But even in the presence of failure there can be profound and moving truths.
I once saw a production of Damn Yankees, featuring Brad Oscar as the Devil. I wasn't reviewing the play, thank God, but I didn't like the way Oscar was playing Satan. Too vulnerable, I thought, too easily frustrated. But really, was I in a position to tell Brad Oscar how to play a role? Perhaps Oscar would invite me down onto the stage; ask me to play the role for the night.
Oh, here it is – Charming Billy, Blake Robison's adaptation of the fine novel by the local writer Alice McDermott. I didn't find the performance of the actor who played the title character's best friend to be convincing. He was a Houston actor, and he had honors and commendations up the wazoo. To quote a holy man, who was I to judge?
Here's what I ended up writing:
"I suppose I will eventually have to get around to saying this: I did not much like [John] Feltch as Dennis. It is Dennis' love for Billy which animates much of the story line; Dennis, after all, makes the principal decisions which make the story go the way that it does. But Feltch, an actor with impressive credentials, elects to give us a low-key Dennis, whose feelings toward Billy were to me unclear. We understand the part of Dennis which is exasperated and annoyed at Billy, as many caretakers for the drink-damaged become, but we don't fully see the man who would go to his formidable stepfather (Conrad Feininger) and borrow five hundred dollars so that Billy could send for Eva and her mother from Ireland."
I acknowledged his credentials; I explained that my judgment was my own, not holy writ; I explained why I reached that judgment, and I left the rest up to the reader. It was the standard I tried to keep in all of my reviews. And sometimes I did.
Ah, here are some programs for the Contemporary American Theater Festival – big thick things, with information about the entire Festival's five- or six-play seasons. We would go up to Shepherdstown every July and stay at the Clarion Inn or, in palmy times, the Bavarian Inn. Ed Herendeen ran it – still runs it – and everything presented was either a world premiere or a play in its infancy. The great thing about the Festival was its failures…the Festival would have plays which just didn't make it. Which meant that the Festival was taking risks. It wasn't just staging surefire moneymakers or plays which would make the critics rave. It was staging plays that might find their legs when they find their audiences. And sometimes they didn't. You've got to love a Festival which can do that.
Well, I'm talking like a critic. As an audience member, I've got to say the best thing about the Festival was Joey Parsons. I've seen some fabulous actors on the DMV stage – Holly Twyford, Ed Gero, Rich Foucheux, Justin Weaks, E. Faye Butler, Karl Miller, Kimberly Gilbert, Kate Eastwood Norris, Jim Jorgenson, and this is just a representative sample. But Joey Parsons was something else. I first saw her at the 2009 CATF, where she was in two plays, 50 Words and Dear Sara Jane. I saw the latter play first, and after I picked my jaw off the floor I wrote, "Occasionally there is an actor who is so suited for her role that you immediately suspect that the part was written for her. In the role of Sara Jane, in the world premiere of Victor Lodato's Dear Sara Jane, the remarkable Joey Parsons inhabits every cubic inch of this anxious young woman's fears, misgivings, fantasies and desperate desire to please."
What I didn't know is that it would also seem that the next play that I saw her in seemed to be written for her. And the play after that. And the play after that.
In Not Medea, she began in the audience, talking so loudly that the other customers started looking at each other nervously. If I hadn't recognized her I would have thought her to be under the influence of spirituous beverages, and tried to find an usher. In Gidion's Knot, the tension she established with the other actor was so palpable I thought at any moment that they would start hitting each other, or fall weeping into each other's arms. And in The House on the Hill she imbued her character with a grief so profound it seemed invented for the first time on that stage.
In my first review, I mentioned that Karen Allen made the actors around her better. Parsons tops even that; she makes the plays better.
Could she make these plays better? I am looking at a pile of Fringe programs. They are flimsy – sometimes only a single page – and, like all my programs, withered with sweat and stained with coffee. All done on the cheap and awful, right?
Or – wait. Here's 4:48 Psychosis, done by Factory 449. Brilliant. Underneath the Lintel, featuring the fine actor Patrick O'Brien. Krapp's Last Power Point, the acting and playwriting debut of the polymath John Feffer.
And, yes, there's this one. Dracula. A Love Story. I had started it in 2004, when I was still with my community theater, and I rewrote it over and over again. I took it to Ernie Joslowitz's great Playwright's Forum, where they arranged for two staged readings. I polished it until I had no more polish, and took it to the market, without success. Finally, like the hundreds of other playwrights/directors/producers who end up investing in themselves, I decided to produce it myself in the 2014 Fringe Festival.
Christopher Henley and Jay Hardee agreed to co-direct it, and they got an excellent cast: Lee Ordeman, Carolyn Kashner, Lynn Sharp Spears, Josh Speerstra, Christine Hirrel, Joe Brack and Brian Crane. And then we sat down for the table read. And when these good professional actors read the script, it sounded – flat. And long. And repetitive.
And tedious.
I was given to understand that one of the most important missions of the production would be to pare my script down to something that could be produced at the Fringe, and they began immediately. At first, Jay would call me up to tell me what they had excised, and to get my approval. I gave it with increasing apprehension. William Faulkner advised aspiring writers to "kill the darlings," by which he meant to get rid of the prose you're in love with if it doesn't advance the story. My problem was that after ten years they were all darlings.
One day Jay let me know that they had cut a scene I thought was particularly funny (why I thought a story about a guy who killed people and drank their blood should have funny scenes I no longer recall). I asked if they could please restore it. Jay waited a bit and then suggested that it would be better if I just let them finish the project by themselves.
I did, and the final result was ten times better than what I had written. The Fringe gave us space in the Underwood Theatre, where Washington Stage Guild usually performs, and I was delighted by what I saw, onstage and backstage. The reviews – Washington City Paper, Maryland Theater Guide, DC Theatre Scene, DC Theatre Metro Arts – were all kind, and attendance was pretty good. And I realized how far I personally was from being real professional playwright.
I said the reviews were kind but not unanimously so. In order to boost attendance (and, I hoped, to draw attention from New York and London) I engaged a publicist, and she engaged a blogger who would attend the show and review it. The best way to boost a Fringe show, my publicist explained, would be through social media, and this blogger had a social media following.
The problem was that the blogger hated the show. She lit into the production with a will. If there was a vampire, doctor or stagehand she didn't excoriate, it was just because there were so damn many of them. She saved the worst, of course, for the playwright. And to top it off, she gave away the twist ending.
Sorry you didn't like my show, blogger.
Even though I could see my distance from theater's real art, I reveled in my position. I went to the National Critic's Institute at the O'Neill Theater Center. I joined the American Theater Critics Association! There, I lobbied in favor of great plays from the area, like Gidion's Knot, or Aaron Posner's Stupid Fucking Bird, or Perfect Arrangement or Dontrell: Who Kissed the Sea, both from the Source Festival. I favored a Tony Award for Shakespeare Theatre Company and the theatrical hall of fame for Michael Kahn. I joined the Board of Directors! Became Vice-President! (both jobs nobody else wanted).
Thus the art I reviewed came to be bound up with my ego. I was no longer a Diogenes looking for artistic truth. I was a critic/politician, looking to wield my imagined power to accomplish good and also make me a great man.
Two things happened, roughly simultaneously, to make me reappraise my position. I was in New Orleans, for an ATCA convention. I had been jetting around from one location to another as part of my official duties, staying at nice hotels and scarfing down expensive meals. The theater tickets were free for ATCA members, but everything else was on my own arm. But in New Orleans, I lost my seat on the ATCA Board at roughly the same time I discovered that I was several hundred dollars overdrawn at my bank.
The theater in New Orleans was pretty mediocre, too.
I was forced to take an honest look at my condition. I was not Robert Brustein or John Simon or Kenneth Tynan. When I met a professional theater critic, like Nelson Pressley or Chris Klimek (or our own Jayne Blanchard), I was awed by the breadth of their knowledge. I'm not all that. I'm a guy – a lawyer – who likes theater, and is willing to go to shows and tell you about them if they'll let me in free.
But was that so horrible – that I play out the string by posing as myself? I began to reappraise theater through a single criterion: did it allow me to enter the fictive dream? By that, I meant: would I, sitting in my comfortable seat (and by extension you, sitting in yours), leave the troubles of my world behind to enter the world of the play? Would I forget about the brief due next Thursday long enough to sit in Willie Loman's kitchen, shudder at his grandiose misapprehensions, and allow my heart to break as reality intrudes on them all? Here is the measure of whether a play allows you to enter the fictive dream: do you notice the buffoon, six seats down, who is looking at stock prices on his cell phone? If not, you have entered the fictive dream.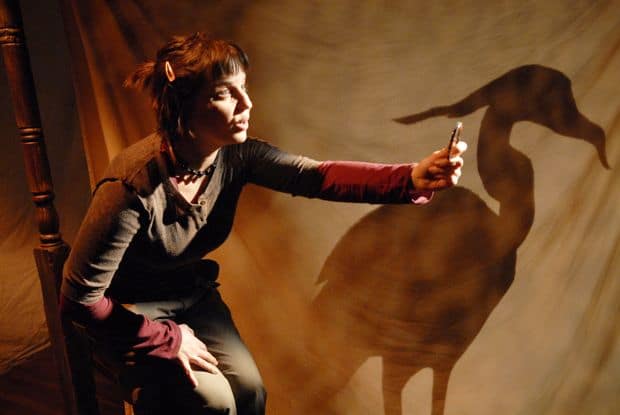 I go through a pile of consecutive playbills, all of which allowed me to enter the fictive dream. The Big Meal, at Studio. The K of D, at Woolly Mammoth. Mojo Mickybo, in which Michael Innocenti and Chris Dinolfo played a whole village, and then the whole world. This Storm is What We Call Progress at Rorschach and Civilization (All You Can Eat) at Woolly, both by Jason Grote. Ethan McSweeney's remarkable Twelfth Night, for Shakespeare Theatre, where I didn't enter the fictive dream until half an hour after the show. Angels in America at Forum.
Here's an old one: Headsman's Holiday. We went to it originally because we had a friend in the cast. It was at Theater Alliance, back in the days when a trip to H Street was an adventure. It was an unusual story – about a guillotine operator called to Paris to take on some extra work. As the French Revolution became successively more radical, he found he couldn't return to his home and family, so he made the best of it. We saw it again and again. Theater Alliance was introducing a director new to the area – one who had been working mostly in Philadelphia. His name was Aaron Posner.
Into the H file.
My erstwhile colleague and business rival, Joel Markowitz, God rest his good soul, had an immaculate collection of playbills. You would see them, in albums and showcases like Nabokov's butterflies, as soon as you entered his apartment – which, by the way, was also immaculate. But Joel was a tidy man. I…am not.
So the piles keep on…piling up, like snow melting in reverse. Soon the piles will become files, and the files will go into a file drawer, and the file drawer will close.
And yet…and yet. Marcel Proust, in "Memories of Things Past," described how the aroma of baked bread could evoke an experience – could bring it back to life, in all its florid details, though it was twenty or fifty years in the past.
Will the playbill drawer be full of the smell of a thousand loaves of bread?
Or how about this? Dive through the archives of DC Theatre Scene, read the reviews of the shows that you knew and loved, the ones that allowed you to enter the fictive dream, and see if they bring you there still.
Or how about this? You become a theater reviewer. My time in this gig is over, but now you don't need me. Do a little research – not on the play you're about to see, but on the times and issues which made it important – and then open yourself to the voyage upon which you have been invited. And then, when you get home, write what you saw and learned and what moved your passions and who was responsible and why. And then seal your words on your hard drive or thumb drive or whatever and, whenever you need to, break open those loaves of bread.
Smell you later!
Oh – I remember this one. It was Robert Falls' King Lear, done at the Shakespeare Theatre's Harman Center. Falls had the startling insight to set the play in Kosovo, during the worst of times there. Lear is the story of the war of all against all, where the only safety lies in the disembowelment of your enemies. Lear's great mistake was not in disinheriting Cordelia but in retiring at all, for there is no retirement from constant battle.
In this brilliant production, there was a special moment. Lear's treacherous daughter Goneril has betrayed her father, killed her sister, abandoned her husband and lost everything. She takes a pistol and points it at the inside of her mouth. She pulls the trigger. Blood and brain matter splatter all over the wall behind her.
But that's not the moment. The moment is immediately afterward, when a paunchy soldier, bleary-eyed and unshaven, a human, like you and me, looks at the dead Princess and then picks up a bottle of Slivowitz. He opens it, puts it to his lips, and upends it. Glug-glug-glug it goes, an obscene toast to Goneril's decision, until it is gone. Then his dead eyes look back at us. This is what it's like to be human, they say.
Into the K pile.
This is the last one. Give me a minute, sorry. Forum Theatre did this play. They're no longer here, either.
It was a play about the forgiveness of sins, set in Purgatory, where damnation is real but redemption is possible. It was a courtroom drama. The prosecutor was a lunatic; defense counsel was a woman haunted by her own sins; the Judge was a Confederate soldier who hanged himself when his side lost. The defendant was Judas Iscariot.
Are we responsible for our bad acts? The defense called Sigmund Freud; the prosecution called its own expert, Mother Theresa. Satan was called – conjured, excuse me. But the problem was that Judas could not forgive himself. Even when Jesus Christ appeared and begged him to accept forgiveness, Judas could not do so. And then, in the last ten minutes of the play, the play's real story appeared, with a half-consumed six-pack to share with Judas. He was a cow-town college professor, freshly dead, who committed his own brand of unforgiveable sin, and so ruined the rest of his life with shame and self-loathing. And we see how hard a thing it is to be a human, and how glorious it is if we can learn to do it, and how sad it is if we can't.
Last Days of Judas Iscariot. In with the L's.
Close the file. Close the drawer. Close the house.
Damn. Damn. Damn.