Ballet
The Royal Ballet's Yasmine Naghdi Shares Her Go-to Self-Care Ritual and Her Favorite Recipe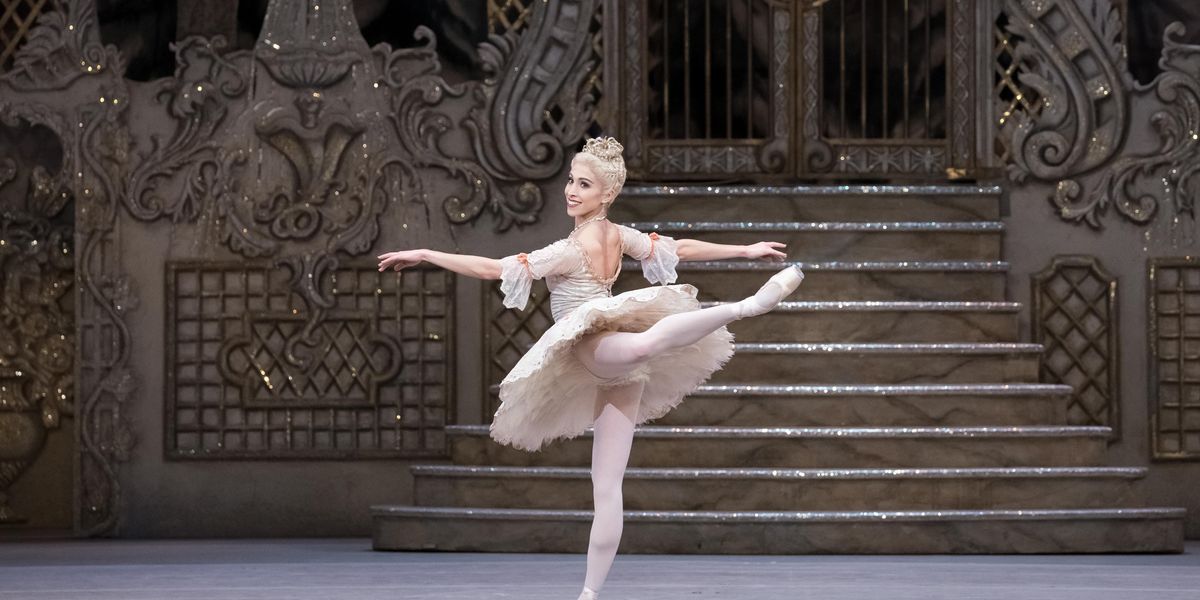 Royal Ballet principal Yasmine Naghdi had been gearing up to star as the Sugarplum Fairy in a December livestream performance of The Nutcracker when London went back into heavy COVID-19 restrictions. The performance was canceled, but Naghdi has been taking this current setback, and the challenges the pandemic has brought over the last 10 months, in stride. In addition to keeping up with her training, she's been taking Italian lessons virtually and preparing elaborate meals with her boyfriend ("We're both real foodies," she says). Last fall, Naghdi, who has always loved cooking, travel, design and self-care, decided to share her offstage passions with fans on her new Instagram page, @lifestyle_by_yas.
Naghdi recently talked with us about staying flexible to the UK's lockdown changes and her post-performance wellness routine, plus offered a recipe for her favorite pasta dish.
---
Naghdi and Matthew Ball in The Royal Ballet's Nutcracker
Karolina Kuras, Courtesy ROH
How was it preparing for the livestream performance of The Nutcracker last month, only to have it canceled due to new COVID-19 restrictions in London?
We worked so hard to get ourselves up to peak condition, and, I admit, it's been trickier than usual. Normally, at this point in the season we would have performed multiple ballets and our stamina would be in tip-top form. However, this wasn't the case this year. I managed to perform four times from March until December. When the announcement on December 19 came out introducing harsher restrictions, the company was notified and the livestream had to be canceled. This was very sad news for us all, but everyone's health is the main priority. [The show was replaced with an online performance of Christopher Wheeldon's 2017 production of Alice's Adventures in Wonderland, available to watch until January 21.]
What was the inspiration for launching your @lifestyle_by_yas Instagram page during the pandemic?
I had so much time on my hands that my creativity needed an outlet. In the early stages, I shared meals and the cozy, designed corners in my new home on my ballet Instagram page. But I realized I'd better create an entirely different account exclusively geared towards my other passions, like international travel, interior design, collecting unique decorative objects and sourcing vintage couture. The pandemic restricted my moves, so I haven't been able to share as much as I had hoped. I also love all things self-care, so I plan to include more of my skin-care rituals, makeup, etc. I imagine the page to be something like a mood board while sharing recipes, past travels (with hopefully more travels in the future!) and more.
What will be your go-to travel spot, post-pandemic?
I hope to be able to travel to a warm country, wherever that may be. Last year my boyfriend and I had various holidays planned, but they all got canceled: Rio de Janeiro in January, Tuscany during Easter and the Greek islands for the summer. I love the proximity of the sea wherever I go on holiday, and I am currently dreaming of island hopping in Indonesia.
What's your favorite self-care regimen after a performance and to beat the winter blues?
As soon as I arrive home after a performance, I run a hot bath, adding Epsom salts to aid muscle recovery. I also add Molton Brown Cypress and Sea Fennel bath crystals, as the smell is absolutely wonderful.
To beat the winter blues, I use The Sanctuary Spa salt scrub, to get rid of dead skin, and a rich, moisturizing hair mask (I love Kerastase Paris Chronologiste mask). Once out of the bath, I use a rubber hydration mask by Dr. Jart+, and then I finish off with Dermalogica antioxidant hydra-mist. After blow-drying my hair, I work some Kerastase oil into the tips of my hair. I'll also do an at-home manicure; currently I'm using Essie's Treat Love & Color polish. It is a light pink that's great as an everyday color, and it's not distracting onstage, either.
What's your favorite winter comfort food, and do you have a recipe you can share?
My favorite winter comfort food would be a big plate of pasta or mushroom risotto. My absolute favorite recipe is linguine alle vongole (pasta with clams). I've developed my own take on it after learning from relatives and online recipes. It is beyond delicious, and it does not taste nor smell fishy at all. It's easy to make but does require attention to detail.
Yasmine Naghdi's Linguine Alle Vongole Recipe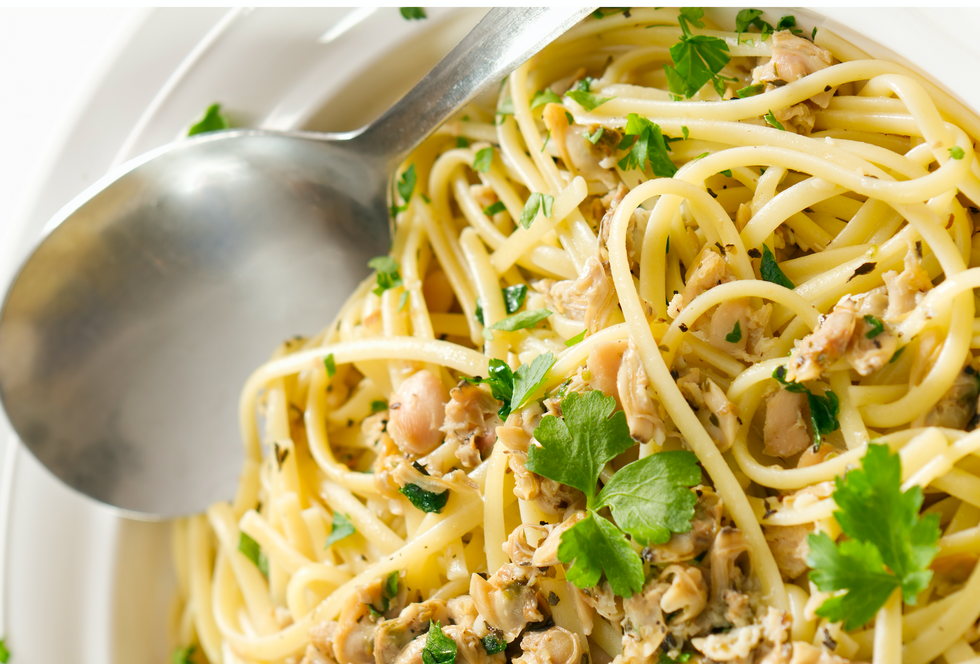 Getty Images
The ingredients are:
800 g (1.8 lbs) fresh clams, about 200 g (7 oz) per person
3–5 garlic cloves, peeled and finely chopped
1–2 handfuls fresh parsley, finely chopped
1 pepperoncino (red chili pepper) or dried flakes (amount depends on your preference)
4–5 tbsps extra-virgin olive oil
320–400 g (11–14 oz) linguine or spaghetti
1/2 glass dry white wine
Earlier in the day, soak the clams in cold water and add 2–3 teaspoons of salt (ONLY). Leave the clams in throughout the day, as they will release sand.
Finely chop the peeled garlic, parsley and chili so you have this ready when it's time to cook. (Remove the seeds from the chili if you want a milder flavor.)
Wash the clams in cold water and remove any with broken shells.
Put a pot of water on to boil for the pasta.
While the water is heating: In a deep frying pan, add half of the olive oil, chopped parsley, garlic and chili pepper. Throw in the clams and cook, covered, over high heat until they have opened (about 5 minutes). Shake the pan gently every so often to make sure the clams cook through evenly.
Allow the clams to cool a little, then remove the meat from most of the clamshells, keeping some intact for decoration. Set the meat aside and discard the empty shells.
Filter the clam liquid from the pan several times. Don't discard it; this liquid is crucial to the flavoring of your pasta!
Cook the pasta for half the time it says on the box. You don't need salt, as the clams will already be a little salty.
In the meantime, heat up a wok or deep frying pan with olive oil and the rest of the garlic, chopped parsley and chili.
Once your pasta is half cooked, don't drain it; instead, transfer it into your frying pan, allowing some pasta water to go with it. Add the clam juice you previously filtered bit by bit, which allows the pasta to continue to cook while absorbing the juice's flavor. Add the white wine, and once the juice has been absorbed and you are 1 minute away from the full cooking time of your pasta, add the clam meat. Continue cooking for 3 minutes.
Mix everything together well and serve immediately, with another sprinkling of chopped parsley and olive oil.
window.REBELMOUSE_LOWEST_TASKS_QUEUE.push(function(){
window.REBELMOUSE_STDLIB.loadExternalScript("https://htlbid.com/v3/pointemagazine.com/htlbid.js", function() {
});
});
window.REBELMOUSE_LOWEST_TASKS_QUEUE.push(function(){
!function(f,b,e,v,n,t,s){if(f.fbq)return;n=f.fbq=function(){n.callMethod? n.callMethod.apply(n,arguments):n.queue.push(arguments)};if(!f._fbq)f._fbq=n; n.push=n;n.loaded=!0;n.version='2.0';n.queue=[];t=b.createElement(e);t.async=!0; t.src=v;s=b.getElementsByTagName(e)[0];s.parentNode.insertBefore(t,s)}(window, document,'script','https://connect.facebook.net/en_US/fbevents.js'); fbq('init', '350241962078232'); // Insert your pixel ID here. fbq('track', 'PageView');
});
window.REBELMOUSE_LOWEST_TASKS_QUEUE.push(function(){
ga('create', 'UA-2506277-21', 'auto', {'name': 'danceMediaTracker' } ); // init new account ga('danceMediaTracker.require', 'displayfeatures'); // catch utm capaign data here if(utmCampaignData) { ga('danceMediaTracker.set', 'campaignName', utmCampaignData.campaignName); ga('danceMediaTracker.set', 'campaignSource', utmCampaignData.campaignSource); ga('danceMediaTracker.set', 'campaignMedium', utmCampaignData.campaignMedium); ga('danceMediaTracker.set', 'campaignContent', utmCampaignData.campaignContent); } ga('danceMediaTracker.send', 'pageview'); // send pageview
});
window.REBELMOUSE_LOWEST_TASKS_QUEUE.push(function(){
window.REBELMOUSE_STDLIB.loadExternalScript("https://cdn.userway.org/widget.js", function() {
});
});
window.REBELMOUSE_LOWEST_TASKS_QUEUE.push(function(){
var $breaking = document.querySelector('.posts_breaking-section') var $trending = document.querySelector('.posts_trending-section')
if ($breaking && $breaking.querySelector('.posts_custom')){ $breaking.style.display='block' $breaking.style.minHeight="65px" } else if ($trending && $trending.querySelector('.posts_custom')){ $trending.style.display='block' $trending.style.minHeight="65px" }
});
window.REBELMOUSE_LOWEST_TASKS_QUEUE.push(function(){
(function () { var mcPopup = { date: false, init: function() { // return if user already subscribed or user has not closed popup if (mcPopup.getCookie('MCPopupSubscribed')) return;
// get cookie using our custom function mcPopup.date = new Date(); var currentTime = mcPopup.date.getTime(); // current time in milliseconds var popupExpiryDate = localStorage.getItem('MCPopupClosed');
if (popupExpiryDate) { // remove local if cookie is removed if (!mcPopup.getCookie('MCPopupClosed')) { localStorage.removeItem('MCPopupClosed'); } else { // if popup expired, remove cookie + local storage if (popupExpiryDate < currentTime) { localStorage.removeItem('MCPopupClosed'); document.cookie="MCPopupClosed=yes;path=/;expires=Thu, 01 Jan 1970 00:00:00 UTC;"; } } } else { mcPopup.updateMcCookieExpiration(currentTime); } }, getCookie: function(name) { var cookieArr = document.cookie.split(";"); for(var i = 0; i < cookieArr.length; i++) { var cookiePair = cookieArr[i].split("="); if (name == cookiePair[0].trim()) { return decodeURIComponent(cookiePair[1]); } } return null; }, updateMcCookieExpiration: function(currentTime) { var expiryAmt = 1209600000; // 2 weeks var expiryTime = currentTime + expiryAmt; mcPopup.date.setTime(expiryTime); localStorage.setItem('MCPopupClosed', expiryTime); document.cookie="MCPopupClosed=yes;path=/;expires=" + mcPopup.date; } } mcPopup.init(); })(); }); window.REBELMOUSE_LOWEST_TASKS_QUEUE.push(function(){ if(typeof resetPhotoCreditPosition === "function"){ //resetPhotoCreditPosition(); } if(typeof dateSizeOnMobile === "function"){ dateSizeOnMobile(); } }); window.REBELMOUSE_LOWEST_TASKS_QUEUE.push(function(){ function leadmediaDateposition(){ let item =document.querySelector(".post-author-list"); if (item && item.clientWidth + item.nextSibling.clientWidth > window.innerWidth - 40) { item.classList.add("make-block-element") } } leadmediaDateposition(); function dateSizeOnMobile() { document.querySelectorAll(".social-author").forEach(function (item) { console.log(item.clientWidth +"---"+ item.parentNode.querySelector(".social-date").clientWidth +"---"+ item.parentNode.clientWidth) if (item.clientWidth + item.parentNode.querySelector(".social-date").clientWidth > window.innerWidth - 40) { item.classList.add("make-block-element") } }) }
function resetPhotoCreditPosition() { if (window.innerWidth < 1023) { document.querySelectorAll(".widget__head + .widget__body").forEach(function (item) { if (item.querySelector(".photo-credit")) { item.insertAdjacentElement("afterbegin", item.querySelector(".photo-credit")); } }) } } //resetPhotoCreditPosition(); dateSizeOnMobile() }); window.REBELMOUSE_LOWEST_TASKS_QUEUE.push(function(){ function isElementInViewport(el, extraOffsetTop, extraOffsetBottom) { var extraOffsetTop = extraOffsetTop || 0; var extraOffsetBottom = extraOffsetBottom || 0; var top = el.offsetTop; var height = el.offsetHeight; while(el.offsetParent) { el = el.offsetParent; top += el.offsetTop; } var topEdge = top - extraOffsetTop; var bottomEdge = top + height + extraOffsetBottom; var topScreenEdge = window.pageYOffset; var bottomScreenEdge = window.pageYOffset + window.innerHeight; return (topEdge < bottomScreenEdge && topEdge > topScreenEdge) || // top edge in screen (bottomEdge < bottomScreenEdge && bottomEdge > topScreenEdge) || // bottom edge in screen (topEdge < topScreenEdge && bottomEdge > bottomScreenEdge); // belly in screen }
function reInitAds() { document.querySelectorAll(".infinite-scroll-posts .widget:not(.htl-ad-proc)").forEach(widget => {
if (isElementInViewport(widget)) {
widget.classList.add("htl-ad-proc"); post_id= widget.getAttribute("elid"); var itemSection = ""; if (widget.querySelector(".widget__section")) { itemSection=widget.querySelector(".widget__section").innerText; }
console.log(" updating htlbid for post_id: "+ post_id); htlbid.cmd.push(function () { htlbid.setTargeting('env', 'production'); htlbid.setTargeting('post_id', post_id); htlbid.setTargeting('is_homepage', 'no');
}); } }); } function Ithrottle (callback, limit) { var wait = false; return function () { if (!wait) { callback.apply(null, arguments); wait = true; setTimeout(function () { wait = false; }, limit); } } }
window.addEventListener("scroll", Ithrottle(function(){
reInitAds();
},200));
});