Creative
The Choreographer's New Skill Set: Working From Home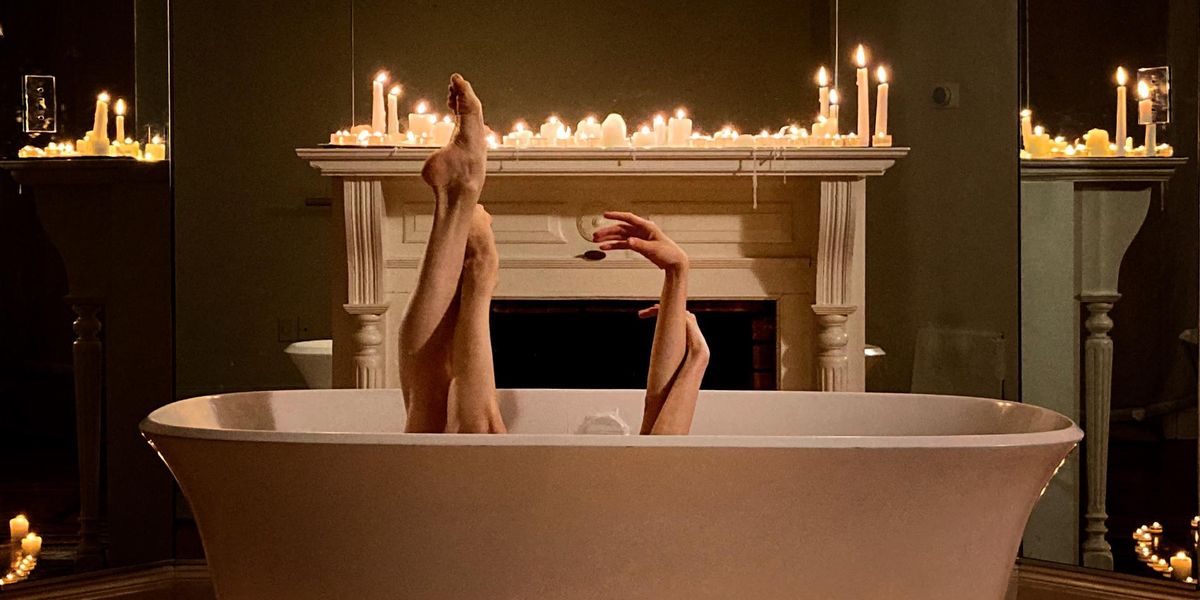 Boston Ballet principal Viktorina Kapitonova's bare limbs emerge one at a time from a giant bathtub set in front of an elegant, candle-covered fireplace, her feet flexing and pointing while her hands create beakish shapes. This is the opening shot of "Swan Lake Bath Ballet," the three-minute viral hit released in July.
But though the imagery evokes a spa-like sense of calm, its creation was far from serene: Working remotely from London, Corey Baker, the film's creator, sent Kapitonova an Amazon shipment of 100 candles, which was stolen from her building's doorstep; the bathtub was lent to her by a local business and placed for the day in Kapitonova's living room; and the tripod meant to capture the traveling shots didn't work, leaving Kapitonova's husband to tape her iPhone to a children's scooter and slowly push it toward her to create the intended effect.
---
This type of behind-the-scenes maneuvering has become par for the course over the past year, as choreographers have struggled to transfer their flesh-and-blood skill sets to the internet. When the pandemic shut down most companies in March, dance artists of all stripes were hungry to jump back into the creative process. And while some found ways to work around social-distancing protocols by filming outside or in quarantined pods, others, like Baker, took on the challenge of choreographing and directing completely remotely.
A screenshot of "Swan Lake Bath Ballet" production, courtesy The Space
"No one had done anything of this scale before in lockdown, so we knew we had to make it all up," says Baker, a resident choreographer at Royal New Zealand Ballet and head of Corey Baker Dance in Birmingham, England. After receiving a Culture in Quarantine commission from the BBC, Baker and his team spent a month preparing to film "Swan Lake Bath Ballet." He worked with two of his company's dancers over Skype to build movement, which he sent out in short chunks to the 27 dancers he'd cast. He also carefully assessed each dancer's bathroom, a space notoriously hard to shoot in.
For freelance choreographer Annabelle Lopez Ochoa, who has so far made 13 short dance films from her home in Amsterdam, location scouting is how she gleans inspiration. She asks to be toured around the dancers' homes on Zoom to come up with a concept for the piece. "It's very intimate," she says, noting that it makes each process feel more collaborative and casual.
Meanwhile, multimedia performance artist Ryan McNamara, who in June created a short film titled "Fleshcore" for the Works & Process Artists Virtual Commissions series, quickly realized that the slight differences in the white-walled backgrounds his nine performers chose added more humanity to the piece. "People's outlets become guest stars," he says.
Working remotely requires choreographers to also take on the hats of director and editor. After rehearsals on FaceTime or Zoom, they need to create elaborate shot lists. "Sometimes it took a dancer three hours to frame one shot, because they just couldn't get the levels right," says Baker, who uses an app that lets him see what a dancer's camera is seeing. In order to achieve aerial shots, Baker shipped an adjustable-neck tripod to each participant. But COVID-related shipping delays forced creativity. "We had dancers cutting up cereal boxes and taping their phones inside, or piling up books on stools with a broom taped to the book and a phone taped to the broom," he says.
Performers were especially nervous when their phones got too close to their filled tubs. "We put my mom's brand-new iPhone into an underwater phone case that she attached to a tripod wrapped around her waist," says American Ballet Theatre principal Skylar Brandt, who had the added challenge of filming a pool sequence. "My mom stood still, and I swam in and out of the frame."
Lopez Ochoa relies on a proxy cameraperson in each location (usually a friend enlisted by the dancers), and directs them virtually. After hours of rehearsal via Zoom, she likes to watch the filming process from a carefully hidden laptop. "I've realized that editing is the choreography; it's the same work of making choices that I do in the studio."
Choreographers have quickly learned to avoid the pitfalls of what McNamara calls "Zoom-style choreography": filming straight-on, without multiple camera angles. "It's a very different medium than concert dance," says Lopez Ochoa, adding that the online audience's attention span is much shorter, and that performers must project differently than they would in a theater.
Despite the maze of logistics this medium requires, the biggest challenge is musicality. "The internet creates a lag that can be infuriating when working on specific counts," says Lopez Ochoa. "I've learned that it's not as unmusical as it feels; the dancers are just hearing it two seconds later."
Another obstacle comes when creating visual unison. "Something slightly different would happen with one person, and then I'd have to inform the next dancer of the change," says Baker. Fortunately, video editing allows directors to subtly slow down or speed up certain sections in order to sync the dancers' movement.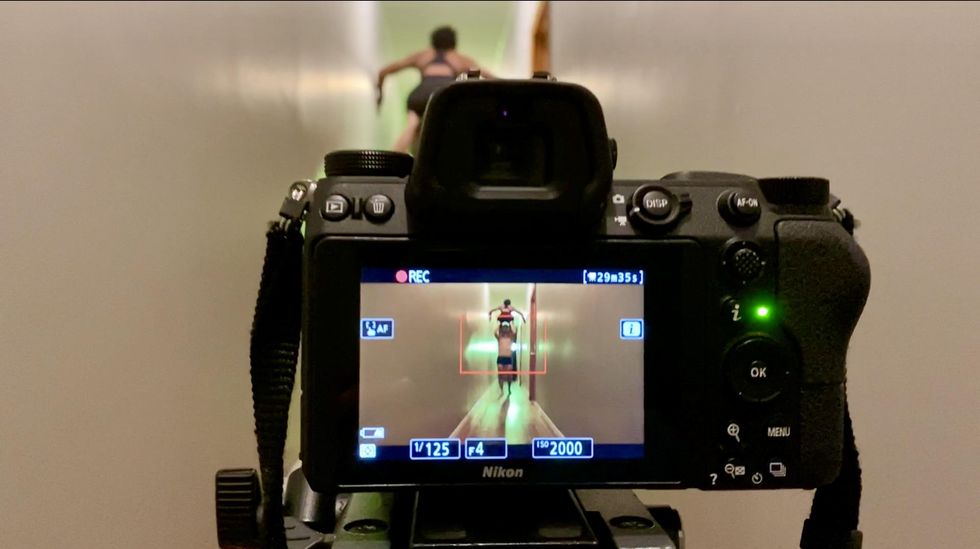 Shooting Annabelle Lopez Ochoa's "Tunnel"
Courtesy Ochoa
Choreographing remotely is not without its benefits. "You can wake up and film in New Zealand in the morning, South Africa in the afternoon, and Canada in the evening," Baker says. "There's a climate-change message for me there, as well as a budget message." Lopez Ochoa, whose hectic schedule usually requires nonstop travel, has enjoyed the reprieve from jet lag, though she's taken the opportunity to squeeze in even more working hours: "I can have a normal working day here in Holland, and then start my day at 6 pm in the States."
Another advantage is the quick turnaround. After George Floyd's death, Lopez Ochoa immediately knew that she wanted to create a film in response. And less than two months later, she released "Say Their Names," a duet between Dance Theatre of Harlem members Dylan Santos and Anthony Santos (no relation). "Every person involved believed so deeply in the message that it just became reality so fast," says Dylan.
McNamara also responded to the state of the world in real time. The weeks he spent editing "Fleshcore" coincided with his sustained efforts to reach New York City's unemployment office. "One day I was on hold for four hours, and the song that played literally became the soundtrack of me making the video," says McNamara, who mixed the hold-music song into his original score for the piece.
While the pandemic has forced choreographers to develop new tools by necessity, no one knows what role remote dancemaking will take once the world opens back up. "Sometimes I'd fly to a company for two days to see a run, but now they might Zoom you in to give corrections," says Lopez Ochoa, noting that small changes like that could help companies save money.
"All through my career, I've felt that there's such a disconnect between everyday people and our amazing art form, whether that's geographical or economic or cultural," says Baker. "But a lot of people are watching content online. COVID's forced the field's hand to support digital dance content." There's no question that online platforms are helping dance reach a new audience. " 'Swan Lake Bath Ballet' got 7 million views worldwide," says Brandt. "You can't have 7 million people watch a live performance."
But there is a real concern about how free online offerings will impact ticket sales once theaters reopen. Some companies have made the decision to monetize their digital content. "We can still present dance and sell tickets in a different way," says Lopez Ochoa, who just virtually created a piece for Whim W'Him to be presented as part of its Netflix-style subscription series. "They can still generate income and generate art," she adds optimistically.
Nevertheless, what artists can't simulate in quarantine is the unique energy that comes from collaborating in the studio. "When you're on Zoom it's just give, give, give. It's exhausting," says Baker. "There's a special bond that happens in rehearsal," says McNamara. "For me, that's actually as important as the audience seeing what we've made, and I truly miss that."
window.REBELMOUSE_LOWEST_TASKS_QUEUE.push(function(){
window.REBELMOUSE_STDLIB.loadExternalScript("https://htlbid.com/v3/dancemagazine.com/htlbid.js ", function() {
});
});
window.REBELMOUSE_LOWEST_TASKS_QUEUE.push(function(){
!function(f,b,e,v,n,t,s) {if(f.fbq)return;n=f.fbq=function(){n.callMethod? n.callMethod.apply(n,arguments):n.queue.push(arguments)}; if(!f._fbq)f._fbq=n;n.push=n;n.loaded=!0;n.version='2.0'; n.queue=[];t=b.createElement(e);t.async=!0; t.src=v;s=b.getElementsByTagName(e)[0]; s.parentNode.insertBefore(t,s)}(window, document,'script', 'https://connect.facebook.net/en_US/fbevents.js'); fbq('init', '509477952725217'); fbq('track', 'PageView');
});
window.REBELMOUSE_LOWEST_TASKS_QUEUE.push(function(){
ga('create', 'UA-2506277-21', 'auto', {'name': 'danceMediaTracker' } ); // init new account ga('danceMediaTracker.require', 'displayfeatures'); // catch utm capaign data here if(utmCampaignData) { ga('danceMediaTracker.set', 'campaignName', utmCampaignData.campaignName); ga('danceMediaTracker.set', 'campaignSource', utmCampaignData.campaignSource); ga('danceMediaTracker.set', 'campaignMedium', utmCampaignData.campaignMedium); ga('danceMediaTracker.set', 'campaignContent', utmCampaignData.campaignContent); } ga('danceMediaTracker.send', 'pageview');
// send pageview
});
window.REBELMOUSE_LOWEST_TASKS_QUEUE.push(function(){
var $breaking = document.querySelector('.posts_breaking-section') var $trending = document.querySelector('.posts_trending-section')
if ($breaking && $breaking.querySelector('.posts_custom')){ $breaking.style.display='block' $breaking.style.minHeight="65px" } else if ($trending && $trending.querySelector('.posts_custom')){ $trending.style.display='block' $trending.style.minHeight="65px" }
});
window.REBELMOUSE_LOWEST_TASKS_QUEUE.push(function(){
window.REBELMOUSE_STDLIB.loadExternalScript("https://cdn.userway.org/widget.js", function() {
});
});
window.REBELMOUSE_LOWEST_TASKS_QUEUE.push(function(){
function isElementInViewport(el, extraOffsetTop, extraOffsetBottom) { var extraOffsetTop = extraOffsetTop || 0; var extraOffsetBottom = extraOffsetBottom || 0; var top = el.offsetTop; var height = el.offsetHeight; while(el.offsetParent) { el = el.offsetParent; top += el.offsetTop; } var topEdge = top - extraOffsetTop; var bottomEdge = top + height + extraOffsetBottom; var topScreenEdge = window.pageYOffset; var bottomScreenEdge = window.pageYOffset + window.innerHeight;
return (topEdge < bottomScreenEdge && topEdge > topScreenEdge) || // top edge in screen (bottomEdge < bottomScreenEdge && bottomEdge > topScreenEdge) || // bottom edge in screen (topEdge < topScreenEdge && bottomEdge > bottomScreenEdge); // belly in screen }
function reInitAds() { document.querySelectorAll(".infinite-scroll-posts .widget:not(.htl-ad-proc)").forEach(widget => {
if (isElementInViewport(widget)) {
widget.classList.add("htl-ad-proc"); post_id= widget.getAttribute("elid"); var itemSection = ""; if (widget.querySelector(".widget__section")) { itemSection=widget.querySelector(".widget__section").innerText; }
console.log(" updating htlbid for post_id: "+ post_id); htlbid.cmd.push(function () { htlbid.setTargeting('env', 'production'); htlbid.setTargeting('post_id', post_id);
}); } }); } function Ithrottle (callback, limit) { var wait = false; return function () { if (!wait) { callback.apply(null, arguments); wait = true; setTimeout(function () { wait = false; }, limit); } } }
window.addEventListener("scroll", Ithrottle(function(){
reInitAds();
},200));
});