Creative
Tampa Choreographers Bring Live Performances to the Streets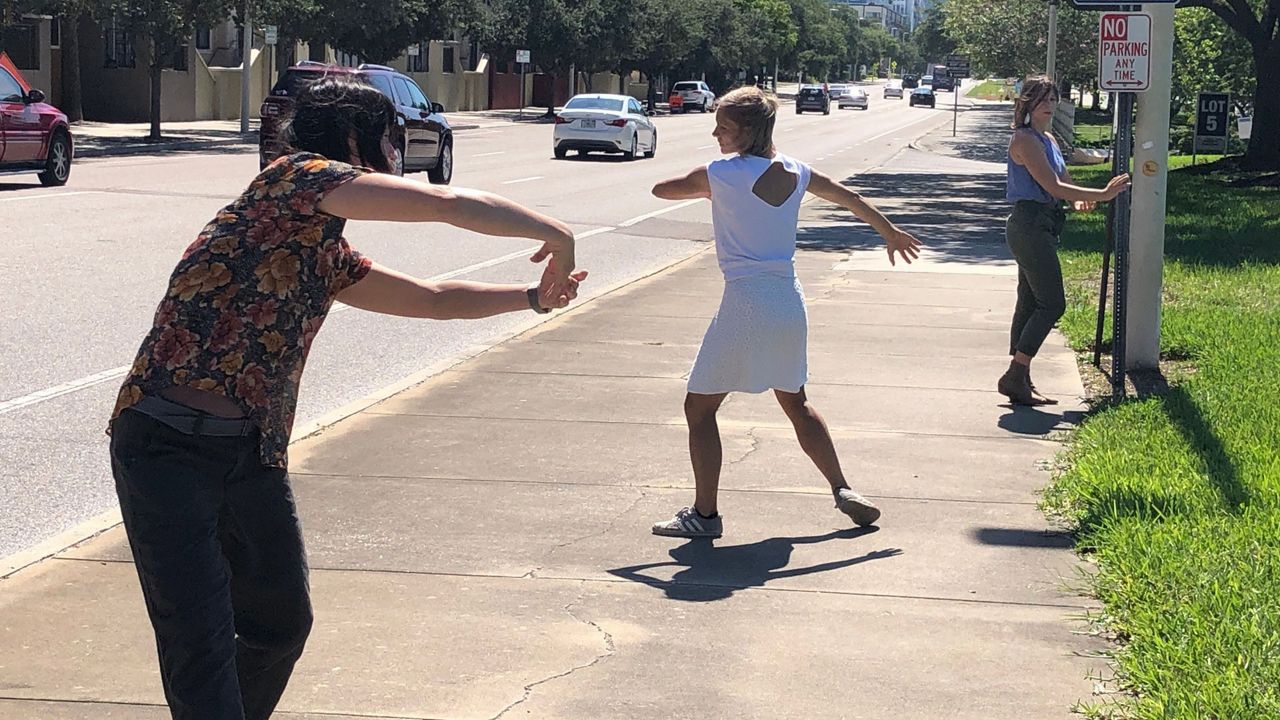 ST. PETERSBURG, Fla. — After three months of being cooped-up, two local choreographers decided things needed to change. They felt the thing they loved, dance, needed to still be experienced by people. 
"We just started to miss each other, and then we also started to think, well I really started to think, we are choreographers, we are used to reacting and responding to situations, and I think we are smart enough to figure out how to do this," said Andee Scott. 
---
What You Need To Know
St. Pete choreographers create dance series called Dance in the Time of Coronavirus
Performances being put on over the summer on the streets




Next performance held June 20 from 8:30-9:30 p.m. at corner of 1st Avenue S. & 16th Street S



---
Scott reached out to Amanda Sieradzki with an idea. Together they co-directed and co-produced a new summer series called Dance in a Time of Coronavirus. 
"For three months dancers were pretty much confined by a zoom screen," said Sieradzki. "While having these virtual spaces has been wonderful to do that, we know as choreographers and as dancers, it is just as important to have that live component as well, to kind of remind us of our humanity." 
"I think that dance can save the world," said Scott. "I actually think that dance is the thing that humanizes us."
Their first performance was on June 13, but they will have several more planned this summer. 
The concept keeps coronavirus in mind, but spreading out the dancers down a few blocks. 
"In order to give as many people the opportunity to come in contact with dance, we just bring it outside. And we place it in situations where people can choose to come see it, but we are also able to capture an incidental audience," said Scott. 
The first two in the series are called Reverberation. The dancers form almost a live flip book for onlookers to enjoy. 
"I hope that people reconnect with their sense of humanity. I think it is really easy like a screen dividing us to feel disconnected from a community," said Sieradzki.
"Also gives everybody a chance to be a part of community again, because I think that is something that is really missing, I feel, I feel that is really missing," said Scott. 
The dancers all stay several feet apart, and people are encouraged to keep their distance while they watch. Masks are also recommended. 
"I hope people are able to connect with each other again. There is something so vital and vibrant about live, in person performances," said Scott.
The next will be Saturday, June 20, from 8:30 p.m. to 9:30 p.m. at the corner of 1st Avenue S. and 16th Street S. All the performances will be done in the St. Pete and Tampa area. 
The pair have also started a fundraiser to help local dancers who have been out of work because of coronavirus. To help, click here.