Ballet
Svetlana Zakharova's Side Hustle: TV Host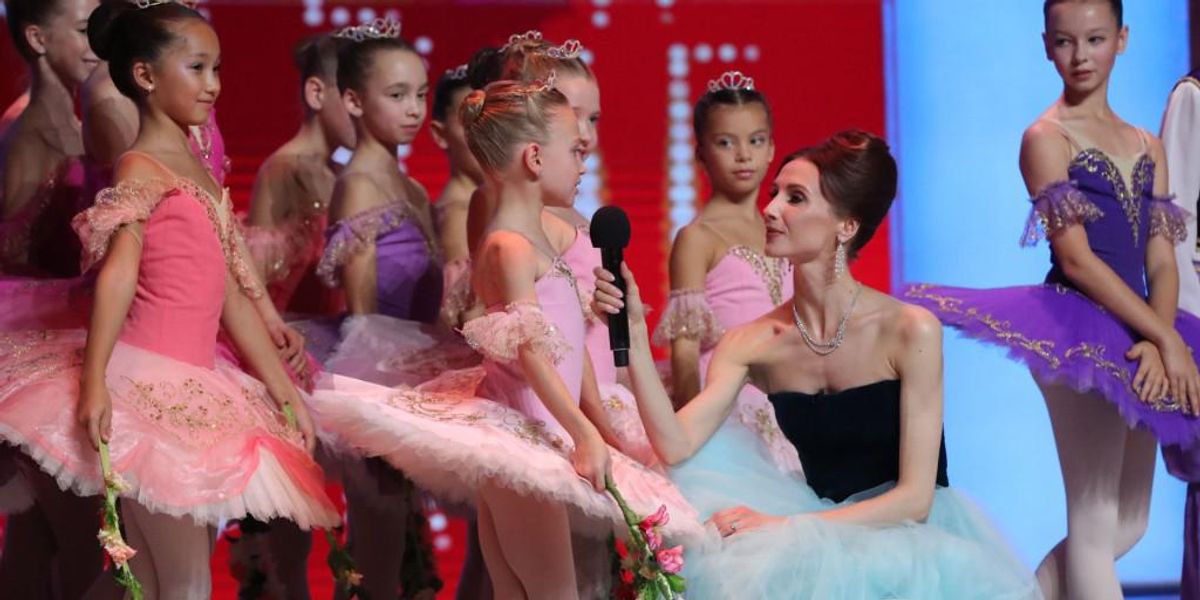 Ballet may be a silent profession, but Svetlana Zakharova quite often appears on the stage in front of the audience with a microphone in hand. And this audience measures in the millions. For the past few years, Zakharova, in addition to her busy performance schedule as a prima ballerina of the Bolshoi Theatre and an étoile of La Scala Theatre Ballet, has been exploring a new role as a TV host of two popular dance programs on the arts television channel in Russia.
---
This year, in addition to emceeing her own televised charity dance festival called "Svetlana" with her 9-year-old daughter Anna, Zakharova was a host of the children's dance show "Big and Small" and a co-host of the fourth season of "Grand Ballet," a hit competition show, which was filmed this summer and premiered on television in Russia on November 4. The first four episodes are already available on YouTube.
How did the idea of hosting a TV show come about?
When I was offered to host a TV show (the third season of "Grand Ballet" on the Russia-Kultura TV channel in 2018), I was initially very surprised. Previously, I had participated in television shows only as a jury member. So when I received a call from the channel's program director and was invited for a meeting to discuss a new project, I was certain that it would be another invitation to be a judge.
At first, I hesitated because the whole idea was quite unexpected. But then I thought that it would be interesting to try myself in a new role.
What is "Grand Ballet"?
The main goal of this project is to give prominence to young ballet dancers, most of whom are just beginning their professional careers. Each participating couple represents their city and their ballet company. "Grand Ballet" consists of six episodes, with each having its own special theme. After each performance, the jury evaluates each participant who takes part in the competition. The judges, who are highly regarded ballet professionals [in this season, the judges are Diana Vishneva, Farukh Ruzimatov, Denis Matvienko and Alexei Miroshnichenko] point out the positive and negative aspects of the performance and suggest corrections in the form of a master class.
In the final, seventh episode, the winners are announced and given awards for Best Female Dancer, Best Male Dancer and Best Couple. The show culminates with a gala concert. And all these happen in front of a multimillion TV audience. So "Grand Ballet" provides the opportunity for the entire country to meet a new generation of talented ballet dancers.
What is your role as a host?
My role is to present our participants in the best possible light and to tell the viewers about the best qualities of their dancing. As a professional ballerina, I know what it takes. So I do my best to support and encourage the young dancers. Since I am familiar with almost all repertoire presented during the show, it is so much easier for me to talk about their performances than, I think, for my wonderful co-host, Ildar Abdrazakov, who is an opera singer. I am certain I would have had the same challenges if I were to host the "Grand Opera" show.
This season of "Grand Ballet" was filmed during the pandemic. What was different this time?
Because of the pandemic, everyone had to spend nearly four months without performing on the stage and rehearsing in the studio. It was quite difficult to stay in shape—and I know it from my own experience. For this show, the dancers had to prepare, in a very short period of time, six different programs, which included both classical and contemporary pieces. Another challenge was that there were no spectators: the participants had to dance looking at the empty theater, facing television cameras and the judges.
On "Grand Ballet" with her co-host, Ildar Abdrazakov
Vadim Shults, courtesy Zakharova
What is the most satisfying part of being on this show?
Seeing the results. As the history of previous seasons of "Grand Ballet" has proven, after the end of the project, many young dancers become stars. During the show, it's so rewarding to see them gain experience and grow and develop as artists. In the first days of the competition many of them feel somewhat tentative and constrained; as the show progresses, many undergo a real transformation. It's so wonderful to see how they change and improve—sometimes beyond recognition.
You already warmly mentioned your co-host, Ildar Abdrazakov. What was it like to host a ballet show with the world-famous opera singer?
Just like in ballet, a reliable partner onstage is very important—it is a big part of success. And Ildar was an amazing partner and co-host in every way. We established a natural rapport from the start and were able to easily continue each other's line of thought. It was very enjoyable to work with him.
In each episode of the show you are wearing a beautiful gown. Who designs them?
On this season I was dressed by the famous Russian couturier Valentin Yudashkin. For the recently aired children's dance show "Big and Small," where I was a sole host, my gowns were created by another prominent Russian designer, Yulia Yanina. I choose my wardrobe myself. For me, to have the right dress is important: Each outfit creates a new look and it really affects how I feel, gives me confidence and creates a special atmosphere.
You also founded your own dance festival for children, "Svetlana." Tell us more about it.
Svetlana is already six years old. Every year, about 800 children take part. We receive applications from children's dance groups from all over the country. The selected participants and their families come to Moscow to take part in the gala, which is broadcast on the Russia-Kultura TV channel. The organizers of the festival cover all expenses for the participants and also provide free tickets for the gala, which are distributed through various charitable organizations.
Your 9-year-old daughter Anna is one of the hosts. Is she following in your footsteps?
When Anna started hosting this festival with her co-host, Gena Pereverdiev, four years ago, they were still very young kids. And now they are already confident and experienced presenters. They know all the subtleties and nuances of their roles. Before the show, they read and memorize a lot of text and participate in filming of TV clips. I usually open and close the festival, and for the rest of the time the stage belongs to the children.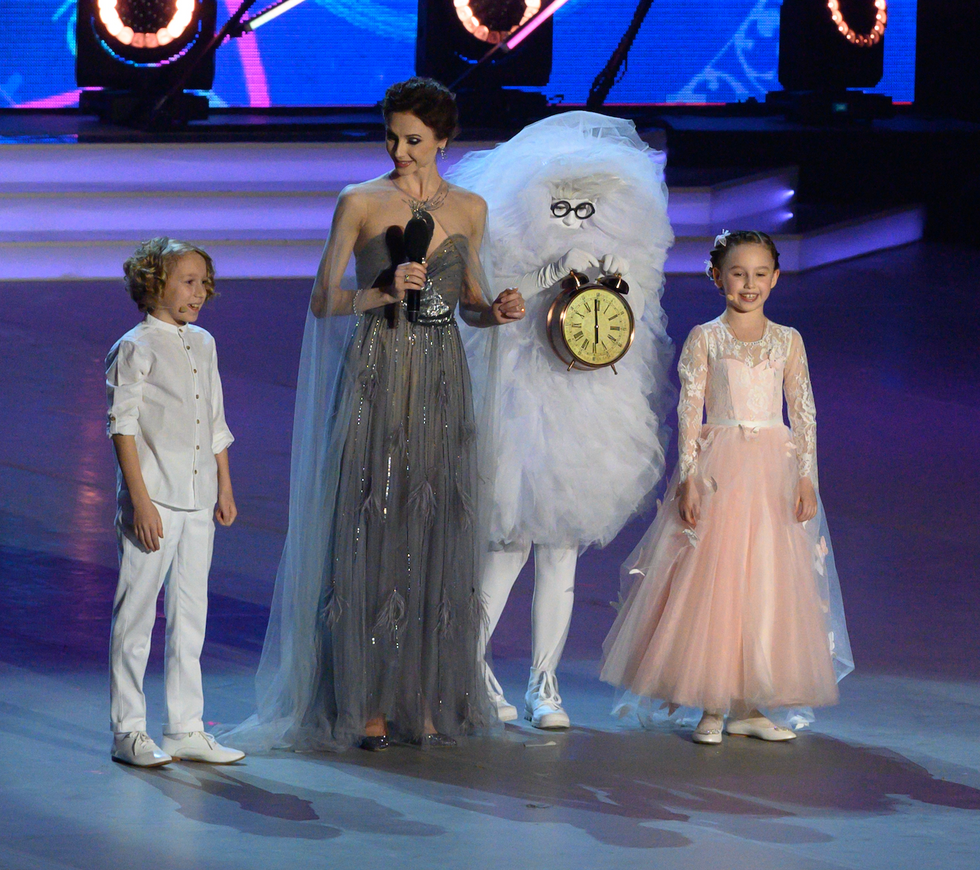 Zakharova with her daughter Anna and Gena Pereverdiev
Photo by Batya Annadurdyev, courtesy Zakharova
Have you ever thought about having your own TV show?
I am always open to new projects—I go with the flow and see where it takes me.
How did you feel during the quarantine?
It was especially difficult in the first month due to uncertainty. We did not know when we would be able to return to the studio and perform on the stage. But at the end of July, the Bolshoi Ballet was back to rehearsals, preparing for the season. Our artistic director, Makhar Vaziev, invited four young dancemakers from Europe to create new contemporary choreography.
What does the Bolshoi Ballet's current season look like?
Since September, the company has already shown almost the entire classical repertoire. And we perform not for online streaming but for live audiences, who take all the precautions when they come to the theater, wearing masks and keeping social distance. [Editor's note: According to new safety measures, the ticket sales to all performances at the Bolshoi Theater starting November 27 through December 31 will be limited to no more than 25 percent of total occupancy of the theater.] And I am very grateful to ballet fans for the fact that they come to the theater and support us, and we, in turn, support them with our art form.
How did the pandemic change you?
Today, each performance on the stage in front of the audience is felt and appreciated differently. Every performance is a gift. I enjoy every moment onstage and realize that this opportunity may disappear at any moment.
window.REBELMOUSE_LOWEST_TASKS_QUEUE.push(function(){
window.REBELMOUSE_STDLIB.loadExternalScript("https://htlbid.com/v3/dancemagazine.com/htlbid.js ", function() {
});
});
window.REBELMOUSE_LOWEST_TASKS_QUEUE.push(function(){
!function(f,b,e,v,n,t,s) {if(f.fbq)return;n=f.fbq=function(){n.callMethod? n.callMethod.apply(n,arguments):n.queue.push(arguments)}; if(!f._fbq)f._fbq=n;n.push=n;n.loaded=!0;n.version='2.0'; n.queue=[];t=b.createElement(e);t.async=!0; t.src=v;s=b.getElementsByTagName(e)[0]; s.parentNode.insertBefore(t,s)}(window, document,'script', 'https://connect.facebook.net/en_US/fbevents.js'); fbq('init', '509477952725217'); fbq('track', 'PageView');
});
window.REBELMOUSE_LOWEST_TASKS_QUEUE.push(function(){
ga('create', 'UA-2506277-21', 'auto', {'name': 'danceMediaTracker' } ); // init new account ga('danceMediaTracker.require', 'displayfeatures'); // catch utm capaign data here if(utmCampaignData) { ga('danceMediaTracker.set', 'campaignName', utmCampaignData.campaignName); ga('danceMediaTracker.set', 'campaignSource', utmCampaignData.campaignSource); ga('danceMediaTracker.set', 'campaignMedium', utmCampaignData.campaignMedium); ga('danceMediaTracker.set', 'campaignContent', utmCampaignData.campaignContent); } ga('danceMediaTracker.send', 'pageview');
// send pageview
});
window.REBELMOUSE_LOWEST_TASKS_QUEUE.push(function(){
var $breaking = document.querySelector('.posts_breaking-section') var $trending = document.querySelector('.posts_trending-section')
if ($breaking && $breaking.querySelector('.posts_custom')){ $breaking.style.display='block' $breaking.style.minHeight="65px" } else if ($trending && $trending.querySelector('.posts_custom')){ $trending.style.display='block' $trending.style.minHeight="65px" }
});
window.REBELMOUSE_LOWEST_TASKS_QUEUE.push(function(){
window.REBELMOUSE_STDLIB.loadExternalScript("https://cdn.userway.org/widget.js", function() {
});
});
window.REBELMOUSE_LOWEST_TASKS_QUEUE.push(function(){
function isElementInViewport(el, extraOffsetTop, extraOffsetBottom) { var extraOffsetTop = extraOffsetTop || 0; var extraOffsetBottom = extraOffsetBottom || 0; var top = el.offsetTop; var height = el.offsetHeight; while(el.offsetParent) { el = el.offsetParent; top += el.offsetTop; } var topEdge = top - extraOffsetTop; var bottomEdge = top + height + extraOffsetBottom; var topScreenEdge = window.pageYOffset; var bottomScreenEdge = window.pageYOffset + window.innerHeight;
return (topEdge < bottomScreenEdge && topEdge > topScreenEdge) || // top edge in screen (bottomEdge < bottomScreenEdge && bottomEdge > topScreenEdge) || // bottom edge in screen (topEdge < topScreenEdge && bottomEdge > bottomScreenEdge); // belly in screen }
function reInitAds() { document.querySelectorAll(".infinite-scroll-posts .widget:not(.htl-ad-proc)").forEach(widget => {
if (isElementInViewport(widget)) {
widget.classList.add("htl-ad-proc"); post_id= widget.getAttribute("elid"); var itemSection = ""; if (widget.querySelector(".widget__section")) { itemSection=widget.querySelector(".widget__section").innerText; }
console.log(" updating htlbid for post_id: "+ post_id); htlbid.cmd.push(function () { htlbid.setTargeting('env', 'production'); htlbid.setTargeting('post_id', post_id);
}); } }); } function Ithrottle (callback, limit) { var wait = false; return function () { if (!wait) { callback.apply(null, arguments); wait = true; setTimeout(function () { wait = false; }, limit); } } }
window.addEventListener("scroll", Ithrottle(function(){
reInitAds();
},200));
});