Performing Arts
Suffolk Performing Arts Office celebrates 20th anniversary – The Suffolk Journal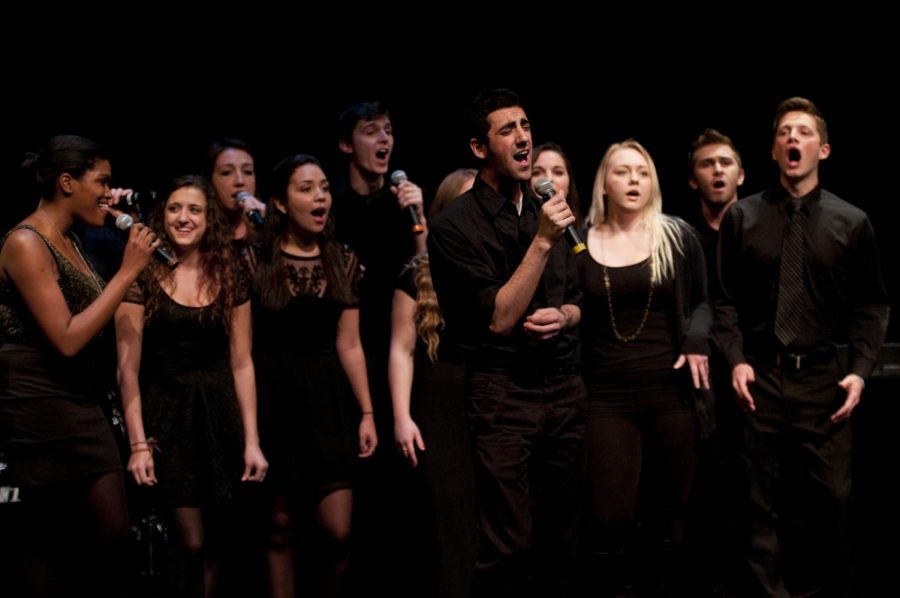 There may not be much to celebrate about 2020, but Suffolk University's Performing Arts Office (PAO) has geared up to commemorate its 20th anniversary. 
Established as its own entity in 2000, the office has planned some retrospective social media posts and activities to mark the 20th anniversary, according to the PAO Director Kristin Baker.
Due to the COVID-19 pandemic, the performing arts groups that make up PAO cannot all gather, but there is still hope for an in-person celebration next year, Baker said.
Baker advised everyone to keep an eye out on PAO's Instagram account, @suffolkpao, and their Facebook page to "see how far we've come."
Baker took her position in the office 15 years ago and said at the time, there were only four performing arts groups on campus. Now, there are 18 different groups that are affiliated with the office, such as Rampage Show Choir, The Ramifications, Passion Latina, Seriously Bent, W!cked and more.
She said she has loved seeing student groups establishing themselves and later going on to do big festivals and productions, and that it is "always exciting to see them take on those first things."
"I love the opportunity to help students grow and find their voice as artists and as whatever they're becoming," said Baker.
In her experience, Baker has come across students in the program who have their heart set on a career in the arts, but also some who just participate for the opportunity to express themselves.
"I think for students that don't maybe plan on having [the arts] be their career goal, who want to be teachers, doctors, entrepreneurs or anything really— having this sort of opportunity to express themselves, find their artistic voice, work in collaboration with other stude
nt artists and create something— that's really exciting to see," said Baker.
PAO at Suffolk has always focused on the "collaborative arts," Baker said, but that connection has been difficult during the COVID-19 pandemic.
"There have been a lot of challenges," said Baker. "But I have been extraordinarily impressed with the artists of Suffolk and their unwillingness to allow this be a year without art."
Even though the artists can't necessarily gather in person, Baker said that hasn't stopped PAO from holding events virtually during the fall semester.
"We've tried to bring all our creativity to bear this semester," said Baker. "We are trying to be as creative as possible to keep people engaged in the arts while still staying safe."
PAO held a live virtual storytelling event for the first time ever in November, in which 10 students got to work with professional story coaches to craft a five to seven minute story, according to Baker. The students built their stories around their own personal experiences and shared them with an audience via Zoom.
"We were really excited about the way that it came out," said Baker.
PAO also experimented with a hybrid event, in which the Improv Asylum main stage cast came to campus and performed for a small in-person audience and a virtual audience simultaneously.
The office has also done hybrid craft nights, as well as open mic nights and
game nights during the fall semester.
As the semester comes to an end, PAO already has plans in place to bring the performing arts to the spring semester, as well.
At the end of winter break, in late January, auditions will take place for the annual virtual dinner theater, which Baker said has been a tradition since the founding of PAO.
She characterized this event as "uniquely Suffolk."
In a typical year, the dinner theater is an interactive murder mystery i
n which the actors serve a three course meal to the audience while engaging in a performance. With concerns surrounding the spread of the coronavirus during an event like this, PAO has made some changes to the tradition.
"We have commissioned a new production that combines a lot of the things we love about dinner theater: goofy sense of humor, the interactivity and puts in a virtual world," said Baker.
Baker outlined the many options PAO is presenting to the audience this year. The meal can either be picked up preceding the show or sent to an audience member ahead of the production that will take place on Zoom.
The actual production will take place in March, with auditions in January.
"Anyone that's looking for a way to connect with some folks and have a little fun should keep their eyes out for those auditions in the spring," said Baker.
One other tradition PAO is continuing this spring is the annual musical variety show, Springfest. This event has typically taken place at the Royale night club on Tremont Street, but will be virtual, as well.
In April of 2020, this event took place through PAO's Facebook, during a live stream of pre-recorded videos by artists, dancers, singers and musicians. The office is looking for the best balance between live and pre-recorded elements for Springfest 2021.
Baker said this virtual event will be "even bigger, even better and even splasher" than ever before.
In the planning of these upcoming events, Baker noted the perseverance of all the students who are a part of PAO. She said she has been "really impressed and inspired by the dancers, singers, musicians, actors and directors here at Suffolk."
"With the inability to gather in larger groups and the inability to have things look the way they have always looked, people have said what can we do to stay connected and use the resources we have to express ourselves and put our voice out there," said Baker.
View the gallery below to see PAO groups throughout the years.
Follow Morgan on Twitter @morganjltorre.