Performing Arts
State Theatre New Jersey Presents A Performance By Reggae Artist Aaron Nigel Smith Available Online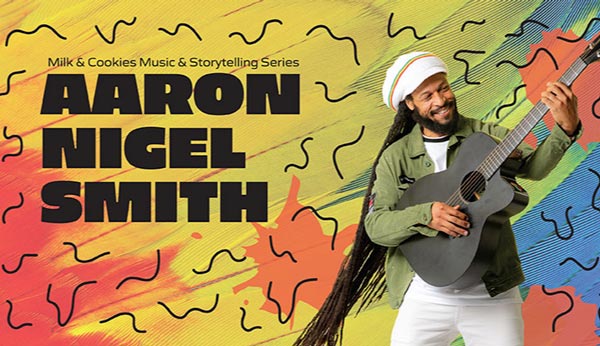 (NEW BRUNSWICK, NJ) — State Theatre New Jersey lets your family experience the peaceful joy of Reggae with a performance by Billboard chart-topper Aaron Nigel Smith. The Milk & Cookies artist recently released In Our America, an album that debuted at #1 on the Billboard Reggae charts. Songs from the album are featured in his Milk & Cookies performance, which you can see on video now through March 1st.
Milk & Cookies is an online, lively music and storytelling series for families. This program is perfect for children ages 3-10.
Your participation is a donation to State Theatre New Jersey's family programs. Donate What You Can—a minimum donation of $10 gives you access to this Milk & Cookies Show for you and your family, larger donation amounts are greatly appreciated and help support State Theatre's family programming. After making your donation, you will receive an email with a link to watch the performance. Watch it right away or save for later. The link we provide you will be active until May 1, 2021. Any questions, email [email protected]
Aaron Nigel Smith has released two albums that have won Parents' Choice Awards—2012's Welcome to the Village and 2010's Everyone Loves to Dance. He was also a part of PBS Kids program Between the Lions. Smith also founded the 1 World Chorus, a non-profit dedicated to promoting peace across the globe through music.
Although we can't meet in person to provide milk and cookies for this virtual series, we want to provide some fun snack ideas for you and your family to make at home! As you dance to Aaron Nigel Smith's reggae songs of joy and freedom, enjoy these Baked Plantain Chips for a dose of vitamin C, or make some Coconut Snowballs for a sweet treat.
Central New Jersey's largest non-profit arts presenter, the historic State Theatre New Jersey is a magnificently renovated silent-film palace that flourishes today as a premier non-profit venue of the Northeast. The 1,850-seat theatre presents a diverse lineup. Each year over 200,000 people attend our world-class programming and over 35,000 children participate in our education programs each year
Built in 1921 and designed by renowned architect Thomas Lamb, the historic State Theatre thrived well into the 1960s. Transformed back into a handsome facility for live performance after a period of neglect, the venue reopened as a non-profit performing arts center in April 1988, and the press and public raved about its visual and acoustical splendors.
State Theatre New Jersey's mission is to enrich the lives of people of diverse backgrounds across the region and to contribute to a vital urban environment by presenting the finest national and international performing artists; providing arts education to inform, inspire, and build future audiences; and providing a major performing arts venue in central New Jersey that encourages and enables members of the community to have a lifelong association with the performing arts.
Our robust season of mainstage programs features high-caliber performing artists across a variety of genres. Pillars of our programming include four Series: Orchestra, Family, Broadway, and Dance. In addition, we present comedy, rock/pop, orchestral pops with New Jersey Symphony Orchestra, jazz, international programming, Performances for Schools, a free Summer Movies Series, and Sensory-Friendly Performances.
In addition to offering exceptional artistry in every genre we present, we have an ongoing commitment to making world-class arts programming affordable and accessible to individuals from all ages and backgrounds. Each year, more than 40,000 members of our diverse community benefit from free and greatly-subsidized admissions to live performances and education programs through our work with community partners. Gifts and grants underwrite more than one-third of the costs of tickets, making it affordable for children and families to experience the joys of the performing arts.
State Theatre New Jersey has experienced tremendous growth in recent years, serving as a pillar of renewal and urban vitality across the region. We were profiled in NJTV's documentary Treasures of New Jersey: State Theatre New Jersey; we have been recognized as a Major Presenting and Service Organization by the New Jersey State Council on the Arts; and concert industry publication Venues Today ranked us the #5 theatre in the world (and #1 in NJ) for theaters of 2,000-and-fewer seats, based on gross revenue over the last 15 years. Our audiences are drawn from nearly all 21 counties of NJ, extending to NY, PA, and as far as Canada, Florida, and England.
originally published: 02/07/2021
---
---
---
---
---