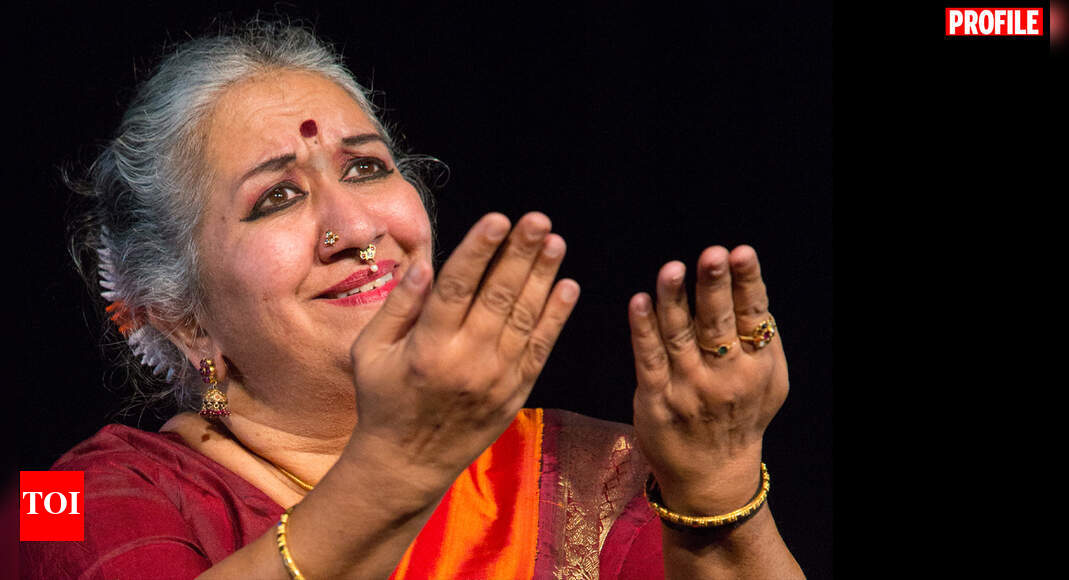 "Where were you born?" Realising that her classmates in the Hyderabad school would be bemused if she answered "Chelmsford, Essex", the new girl settled on "London". At once, the class began to chant, "Pussy cat, pussy cat, where have you been? You have been to London to look at the queen!"
That girl, now veteran Bharatanatyam artist and guru, is on the "London Queen's" list this year, to receive the Order of the Member of the British Empire (
MBE), for "outstanding and exemplary achievement in service to the community."

Pushkala Gopal with Queen Elizabeth at the Nehru Centre in the 1990s
Pushkala Gopal's training in Bharatanatyam had followed the usual course. Though, with an army officer for father and IAS officer for husband, her schooling, dance lessons and career had to accommodate frequent shifts in location. Early years of stage performance, with training from gurus Pakkirisami Pillai (Hyderabad), Malathi Srinivasan (Madras), and Dakshinamurti Pillai (Delhi) made Pushkala feel the need for a more rigorous technical integrity. A Government of India scholarship brought her to gurus Shanta and V P Dhananjayan. Moving to Madras, with her just-born daughter, Pushkala became part of the widely touring Dhananjayans' troupe, moving from small to lead roles in their dance dramas.

Pushkala taught and performed Bharatanatyam in different parts of the country
A few years later, back in Delhi with her husband, she found her career veering into new directions. Along with regular students, she began teaching Bharatanatyam in the Sardar Patel School, to children opting for dance as a part-time course instead of physical training. This compelled her to "reinvent teaching methodologies and rediscover the relevance of the art form. I decided to go to the United Kingdom and train myself in this new field."

In London, with a British Council fellowship, she found a visionary instructor in David Henshaw. "He took me to plays, ballet, contemporary dance shows, discussed them in tutorials, made me write analytical reports about aspects I found practical, relevant." He permitted Pushkala to teach Bharatanatyam at the Bharatiya Vidya Bhavan, and conduct workshops for the Academy of Indian Dance (now Akademi).

Pushkala Gopal along with students of Lady Shriram College (Photo: Facebook)
Appointed co-director of the Akademi with John Chapman, Pushkala worked on 'Mowgli', a multi-style dance drama, the first Indian dance production to tour the UK for two seasons. More production opportunities followed, turning her into what her husband called the "vagrant wife" shuttling between continents. Forming the Mudra Dance School and Akshaya Company in London, with Kathakali/ Bharatanatyam artist Unnikrishnan, led to shows and productions with cross-cultural elements ('Beauty and the Beast', 'Dancing Contest', 'The Taming of the Shrew').

Pushkala worked on 'Mowgli', a multi-style dance drama, the first Indian dance production to tour the UK for two seasons
There came a time when Pushkala decided to concentrate on teaching and pedagogy. As founding member and vice-chair of the South Asian dance faculty at the Imperial Society of Teachers of Dance, she worked on the core syllabus, now used by several countries for instruction and examinations in Bharatanatyam.

This award makes me relive my journey with joy and gratitude. I can see how natya life in Britain has become exciting today, with informed audiences and critics
Pushkala Gopal
Today she works with Sanskriti, her daughter's dance school in the UK, and with Prayathnam, Chennai, a pan-Indian collective of professional dancers. "This award makes me relive my journey with joy and gratitude. I can see how natya life in Britain has become exciting today, with informed audiences and critics," says Pushkala, whose passionate endeavours continue to push boundaries to make Indian dance and culture a presence in the UK, accessible to newer multi-racial audiences.

The writer is a playwright and musician