Music
Shanghai Quartet set to play a string of classical hits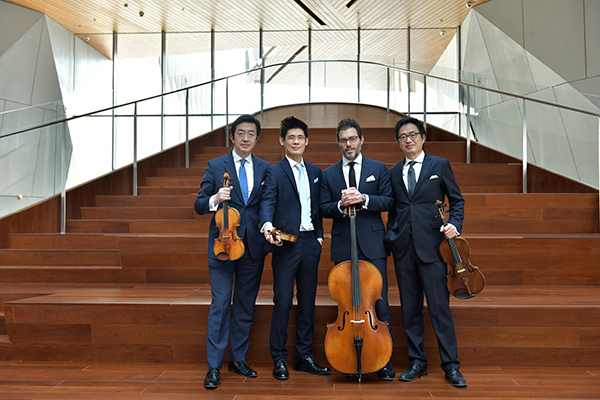 The Shanghai Quartet, which announced its new member Angelo Xiang Yu as its second violinist in November, will give a recital at the Tianjin Juilliard School on Wednesday.
Marking Ludwig van Beethoven's 250th birth anniversary this year, the quartet will perform three of the German composer's pieces written for string quartet: String Quartet No 6 in B-flat Major, Op 18, No 6, Grosse Fuge Op 133 and String Quartet No 8 in E Minor, Op 59, No 2, Razumovsky.
"It will be our first recital after Angelo joined the quartet and also our first recital after the pandemic," says Weigang Li, first violinist of the quartet.
Li says the performance will include three pieces written by Beethoven for string quartet at three different periods in his life-for example, Grosse Fuge Op 133 is one of the last pieces Beethoven wrote before he died.
The members of Shanghai Quartet-Weigang Li, Yu, violist Honggang Li and cellist Nicholas Tzavaras-joined the faculty of Tianjin Juilliard School, the first overseas campus of New York's Juilliard School, last year.
"We are interested in building up an educational platform in China, which enables us to share our experiences and knowledge as a string quartet over the past 37 years. It's a great opportunity to fulfill this idea by joining the Tianjin Juilliard School," says Weigang Li, who teaches both the pre-college and graduate programs.
The new member, Yu, who was born in North China's Inner Mongolia autonomous region in 1988 and went to the primary school affiliated to the Shanghai Conservatory of Music to study violin at age 10, is the recipient of the 2019 Avery Fisher Career Grant and the Lincoln Center Emerging Artist Award in the same year. In 2010, he won the first prize in the Yehudi Menuhin Competition.
"I grew up playing music by myself. However, it is important to work with other musicians. Joining this esteemed group of colleagues is a dream come true. During my youth in Shanghai, I admired the Shanghai Quartet as a prime example of how a string quartet should sound," Yu says.
On Saturday, the quartet performed at the open day of the Tianjin Juilliard School.
"We spent a lot of time solving disputes during our rehearsals. To have the most beautiful sound, we had to reach agreements and practice over and over again. We didn't want to disappoint the composers and the audience," says violist Honggang Li.
The Shanghai Quartet was formed in 1983 by Honggang Li and his brother, Weigang Li.
"There were hardly any Chinese musicians interested in chamber music at the time. Very limited professional guidance in chamber music was available to us. Now, chamber music is widely practiced at music schools in China by the younger generation of musicians, which is a good sign for the future development of classical music in China," says Weigang Li, who began studying the violin when he was 5.
He went on to attend the Shanghai Conservatory Middle School at age 14. Three years later, in 1982, he was selected to go and study for one year at the San Francisco Conservatory of Music through the first cultural exchange program between Shanghai and San Francisco.
In 1984, the quartet won the second prize at the Portsmouth International Quartet Competition. They made their debut in New York in 1987.
Cellist Tzavaras, a native of New York, began to learn the violin at age 2 with his mother, Roberta Guaspari, and moved to cello when he was 8. He joined the Shanghai Quartet in 2000.