Music
Records to Die For 2021 Page 6
Read more at www.stereophile.com
---
Robert Schryer
---
The Moody Blues: In Search of the Lost Chord
Deram/London Records DES 18017 (LP). 1968. Tony Clarke, prod.; Derek Varnals, Adrian Martins, engs.
Never a big Moody Blues fan, on a whim I picked up a cheaply priced used copy of In Search of the Lost Chord. I liked it a lot more than I expected to. It's a late '60s concept album, a concept I dig when done right. It's electric-guitar-driven, but it includes 33 different instruments; it sounds ambitiously Beatles-esque in some places, brimming with youthful energy and ideas of a band on the cusp of greatness. The music offers lush, eardrum-caressing vocals and brilliantly inventive moments—darned if the intensifying, 45-second album opener, "Departure," a poem written and recited by band drummer Graeme Edge, wasn't the perfect prelude to the classic "Ride My See-Saw." The LP's sound is rich and warm. The cover, by artist Phil Travers, is a striking meditation on the concept of, well, meditation.
Jesse Winchester: Jesse Winchester
Ampex Records A-10104 (LP). 1970. Robbie Robertson, prod.; Todd Rundgren, eng.; Bob Ludwig, mastering eng.
Fun story: In 1967, conscientious Vietnam War objector Jesse Winchester fled the US to settle in Montreal, Canada. There, he recorded this, his first album, with The Band co-founder and Montreal resident Robbie Robertson.
Robbie loved Jesse's music. He was also intrigued by the idea of an American southerner crossing the border up north, just as he was about to head in the opposite direction. Of the 10 albums Jesse recorded over 30 years in Montreal, this is his most gem-filled.
Engineered and mixed by Todd Rundgren and mastered by Bob Ludwig, the music is reminiscent of The Band's, which is hardly surprising considering that Robbie produced and played guitar on it. The album contains beautiful odes to a homeland Jesse would return to in 2002 as well as a fun lament about snow that even the winter-hardiest Canuck would understand.
---
Jason Victor Serinus
---
Jamie Barton: Unexpected Shadows
Songs and arias by Jake Heggie. Jamie Barton, mezzo-soprano; Jake Heggie, piano; Matt Haimovitz, cello
Pentatone PTC5186836. 2020. Steve Barnett, prod. Preston Smith, eng.
Even before his opera Dead Man Walking (2000), composer Jake Heggie was blessed to work with some of the finest artists of our time, such as Susan Graham, Jennifer Larmore, and Frederica von Stade. But no one—including character mezzo Joyce Castle, for whom he and his frequent librettist Gene Scheer created the song cycle "Statuesque"—has possessed the outsized personality, total embrace of life, and vocal heft of the remarkable Jamie Barton. There's "Statuesque," in which great statues share their inner thoughts; "Iconic Legacies: First Ladies at the Smithsonian," in which Heggie and Scheer address the emotions evoked by clothes and objects associated with Marian Anderson, Mary Todd Lincoln, Jacqueline Kennedy, and Barbara Bush; "Of Gods and Cats," in which a droll Gavin Geoffrey Dillard parodies religious allegories; "The Work at Hand," which sets Laura Morefield's deeply moving poetry about acceptance and death; and excerpts from "The Breaking Waves" to texts by Sister Helen Prejean and the opera "If I Were You." Barton and Heggie (with support from Matt Haimovitz) transport you to a land of contemplation, tears, and side-splitting hilarity. This recital is a knockout.
Victoria de los Angeles: The Voice of an Angel Sings
Arias by Puccini, Verdi, Massenet, and Bizet, along with songs and zarzuela by Canteloube, Falla, Fauré, Berlioz, Schubert, and many more.
Warner Classics 217308 (7 CDs). 2008. Tony Locantro, compilation prod.; various original prods. and engs.
Not since the heyday of Elisabeth Schumann has a soprano possessed the charm, sincerity, versatility, and intelligence of Victoria de los Angeles. From her professional debut in 1945 to her final recitals, one of which I attended in 1996, her mastery of myriad vocal forms was incomparable. Who else could woo as Manon, seduce as Carmen, and break the heart as Mimì (in La Bohème)? She created the ideal perfumed persona for Fauré's song "Les roses d'Ispahan" (The Roses of Ispahan) and moved beyond words in the failed seduction of "L'indifférent," the final song in Ravel's exotic cycle Shéhérazade. Through her extraordinary voice, de los Angeles channeled a kaleidoscope of colors and emotions and illuminated life's mysteries like a brilliant spiritual guide.
---
John Swenson
---
The Music Of William Parker: Migration Of Silence Into And Out Of The Tone World Vols. 1–10
Centering Records 1020-1029 (10 CDs). 2020. William Parker, prod.; Jim Clouse, eng.
As cofounder of the annual Vision Festival, bassist/composer/ poet William Parker is the world's foremost curator of spiritually inspired music. The focus on this sprawling opus is Parker's compositions: Child of Sound is Eri Yamamoto playing solo piano interpretations of 14 Parker compositions; Afternoon Poem is Lisa Sokolov's spoken-word versions of Parker's poetry. Parker's latest visions (from 2018–2020) place him in a panoptical range of colors and settings, mostly playing bass (among other instruments). My favorite disc is Harlem Speaks, with drummer Hamid Drake and vocalist Fay Victor. The music is by turns a balm for hard times and an inspiration to survive.
Cousin Joe: The Complete Recordings 1945–1955
Night Train International NTI CD3001 (3 CDs). 2001. Aaron Fuchs, reissue prod.; various engs.
Cousin Joe was a beloved New Orleans piano "professor" who worked for many years at French Quarter clubs and bistros like The Famous Door, the Court of Two Sisters, and the Absinthe Bar. He was a prolific composer and raconteur whose tales of life in New Orleans and development of characters like Boxcar Shorty made him popular and led to regional hits. This meticulously gathered and annotated collection covers his work for numerous labels in the company of Crescent City giants Danny Barker, Dave Bartholomew, Herb Hardesty, and Sam Price. His signature tune, the hilarious "Chicken à la Blues," is included.
---
Steven Francis Vasta
---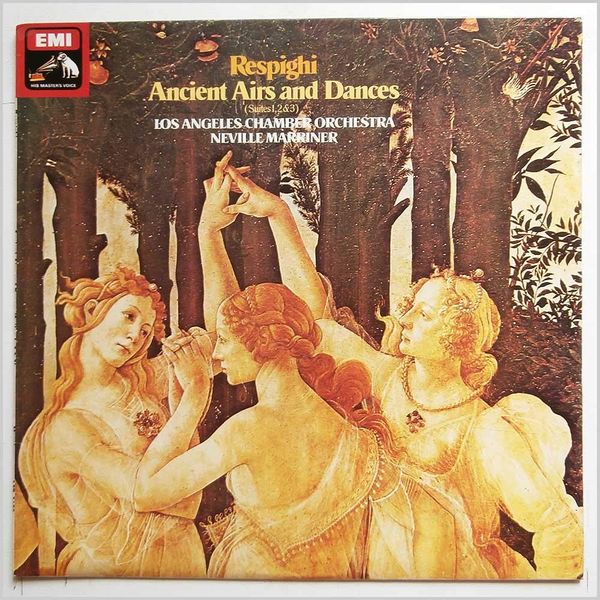 Respighi: Ancient Airs and Dances (Suites 1–3)
Los Angeles Chamber Orchestra/Marriner.
Angel S-37301 (LP). 1976. Christopher Bishop, prod.; Carson C. Taylor, eng.
Many people reflexively associate Respighi with his splashy, colorful "Roman trilogy" of tone poems, but he liked to tinker with Baroque music as well, as in these three suites based on old lute pieces. Not yet Sir at the time of the recording sessions, Neville Marriner fashions vibrant, neatly manicured string playing. Captivating woodwind soli are sensitive and eloquent. Best of all, the reproduction is first-class—Quadrophonic here—with pinpoint imaging of those glorious woodwinds within a warm, natural sonic frame.
George Lloyd: Seventh Symphony
BBC Philharmonic Orchestra/Lloyd.
Conifer CFC-143 (LP). 1986. Howard Devon, prod.; Tony Faulkner, eng.
George Lloyd was the rare 20th century composer who consistently wrote for large orchestra. His work has been dismissed as "movie music." Those people must see some very strange films. In this three-movement symphony, based on the myth of Proserpina, the broad, melodic themes avoid the cinema's easy tugs at the heart. Other turbulent passages explore more advanced harmonies without simply piling on the dissonances. The whole has an inexorable logic. The orchestra responds to the composer with understanding, and the sound is vivid and colorful.