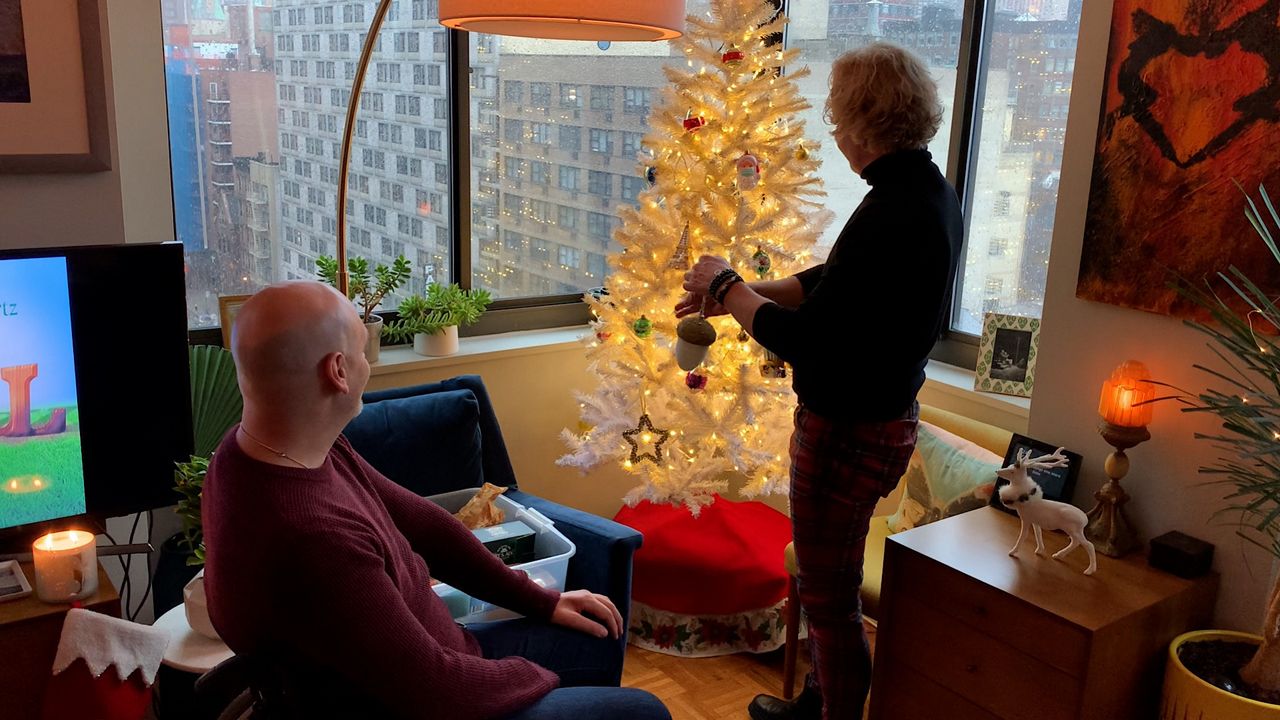 Like many people during the holidays, Steven Skeels and his husband Jerad Bortz have their own traditions. Trimming their Christmas tree in their midtown apartment happens to be one of them.
"Every year we try to get a new ornament and this year our ornament is a heart. Stands for love, to remind us of how much love we have for everyone in our lives," said Skeels, who has worked in the performing arts industry as a songwriter and performer for many years.
Skeels and Bortz are a true show business couple, they actually met during the holidays almost two decades ago while performing in a Christmas revue out of town. The pair have worked consistently ever since. Bortz as a Broadway performer with many credits to his name, including "Mamma Mia" and "Wicked." But in early 2018, tragedy struck. Following a two show day at "Wicked" Bortz met Skeels to drive to their house in Pennsylvania and en route they were involved in a horrific car accident.
"The car rolled and flipped and the roof crushed, and I broke my six cervical vertebrae, and had a spinal cord injury which has made me paralyzed from the clavicle down. And cause I have limited use of my upper extremities as well I'm actually considered quadriplegia or tetraplegia is the actual technical term," described Bortz.
Immediately following the accident, members from the New York theater community rallied to help raise money to pay for medical bills for Bortz and Skeels.  
"It's a small community the Broadway community, and we all come out and help each other when we're in need and I'm so grateful for that," said Skeels.
In the spirit of the holidays, Skeels is giving back in the way he knows best, through music.  His new album "Thankful" is a benefit album for his husband Bortz, with a portion of the proceeds going towards The Actors Fund and Canine Companions for Independence, Two not for profits that helped the couple following the accident.
"What was gonna start out to be a single album turned out to be a double album, 22 songs! Because so many people wanted to be a part of it, and we're just so grateful and it's been magical," said Skeels.
The album which is co-produced by Lynn Pinto and was recorded pre-COVID, features the best of Broadway including Stephanie J. Block, Shoshana Bean, Ali Stroker and more. And while the couple both say almost three years later, they're still adjusting to their new way of life, like the title of Skeel's album, they're thankful for their community, and more importantly they're thankful to have each other.
"Over 100 artists came together to make this happen and it's humbling and I'm so thankful and so grateful that they all were opening up their hearts and just giving," said Skeels.
"So many people in my situation with disabilities, it can feel so isolating. So I'm grateful to not be alone," said Bortz.