Contemporary
New contemporary dance works by Gaspard Louis will premiere online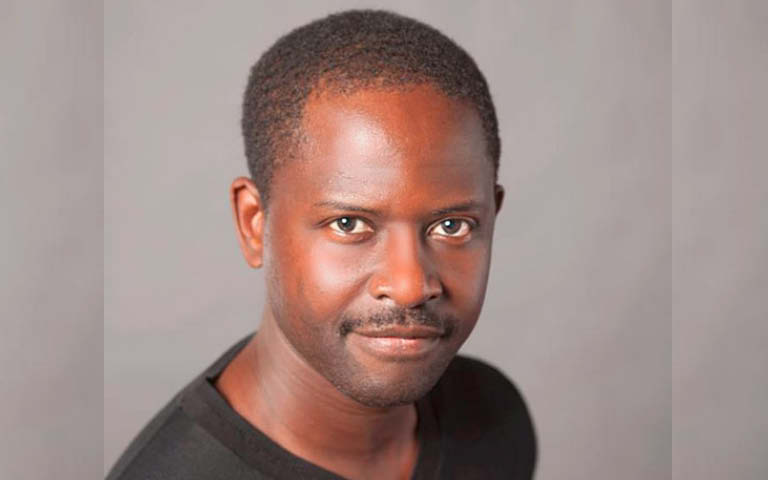 The School of Dance announces the online premiere of "The Space Between" and "Space Between, Within,
Without," two new contemporary dance works choreographed by former Pilobolus dancer Gaspard Louis in collaboration with
senior contemporary dance students. The works explore the dynamics of physical space and relationships in the COVID-19
era while providing practical experience with pandemic-adapted creative processes
common in the professional dance world. Videos of the works are available to view
online for free.
Louis, a Haitian dancer, choreographer and artistic director who is on the faculty
at North Carolina Central University (NCCU) in Durham, collaborated during the fall
semester via Zoom with 13 dancers in Agnes de Mille Theatre on the UNCSA campus and
three dancers who connected from Oregon, Maryland and the U.S. Virgin Islands. The
result is two iterations of the same piece set to original music by noted dance composer
Michael Wall.
"The Space Between" explores "the relationship between individuals who occupy the
same space but are unable to touch one another," Louis said. "They physically connect
but remain separated." Thirteen dancers wearing masks were filmed on campus.
Watch UNCSA dancers in "The Space Between"
"Space Between, Within, Without" is a compilation of three solos by dancers in remote
locations. "As movers, our natural instinct is to soak up the space around us," Louis
said. "However, In the age of COVID-19, we find ourselves in situations where we're
forced to practice self-isolation and remain at a minimum six feet from one another."
Watch UNCSA dancers in "Space Between, Within, Without"
He said the students who worked remotely were dancing in very small spaces carved
out of basements or whatever was available. "I asked them to go outside and explore,
to enjoy the space and the air, to move freely and execute the movements more fully,"
he said. "Space Between, Within, Without" is an "exploration of the space, the air,
and the joy of being able to move freely in an environment larger than six-by-six-foot
boundaries."
The pandemic-defined project is an extraordinary experience for viewers, said Interim
Dean of Dance Jared Redick. "You see two different iterations of the same work. It is the same material with
two distinct visuals." 
Louis visited campus once during the process, but mostly worked remotely with the
whole class as well as one-on-one and small group sessions to explore his concept
and to improvise. "We have equipped our facilities with Zoom rigs, large monitors
and cameras so we have the great ability to work remotely," said Associate Dean of
Dance Brenda Daniels, who coordinated and facilitated the project. "Gaspard was able to share YouTube
videos of his choreography for the students to learn; he was able to see the students
and they were able to see him."
Louis asked the dancers to describe their relationships to each other through movement.
"I prompted them to come up with six to 10 shapes and different combinations of gestures
to connect with one another without touching, and then to learn each other's movements,"
he said. "And then I turned the shapes and gestures into fluid movement."
That reflects the creative process he uses with the professional dancers in the company
he founded: Gaspard & Dancers, based in Durham.
Redick said the process of collaborating via Zoom provided valuable training for dancers
who will enter the profession in the spring. "Our process mirrors what we are seeing
in the professional dance world," he said. "Our students are learning the skills and
processes they will need during, and even coming out of the COVID era."
Technologies like Zoom enable dancers to work with renowned choreographers from around
the world without the time and expense of travel, he said. "While you don't get the
full in-person experience, the result is interesting and ultimately fruitful, for
the dancers and for viewers."
Dancers in "The Space Between" include Jacob Barker, Alexi Broman, Christopher Crawford, Ashlyn Daniel, Claire Finfgeld, Katherine Freund, Elena Gimenez, Clarissa Millen, Teresa Noonan, Max O'Connell, Hannah Staton, Brandon Talbott and Allyson Williams. Performers in "Space Between, Within, Without" were Margaux Lucas, Sara Smith and Sylvani Starchild-St. Clair.
Willow Longbrake, a fourth-year cinematography student in the UNCSA School of Filmmaking, filmed the group dance and edited both videos.
More about Gaspard Louis
Gaspard Louis has a B.F.A. from Montclair State University and an M.F.A. in dance
from Hollins University, with additional dance studies at Gus Giordano Jazz Dance
in Chicago and Nikolais/Louis Dance Lab in New York. He danced with New York-based
AllNations, performing traditional dances from many parts of the world to entertain
U.S. troops across the globe. With Pilobolus Dance Theatre, he traveled worldwide,
collaborating on the choreography of nine major dance works and teaching master dance
classes both nationally and internationally.
In addition to NCCU, Louis is also on the faculty of the American Dance Festival and
has taught at Duke and Elon universities.
He has premiered one other piece at UNCSA. "Souke – Shake," celebrating the resiliency
of the Haitian people after the island was devastated by an earthquake in 2010, was
performed by contemporary dancers during Fall Dance 2018. He will be a guest artist
in the UNCSA School of Dance again this spring.
Get the best news, performance and alumni stories from UNCSA.
SUBSCRIBE TO OUR NEWSLETTERS