Ballet
Misty Copeland On Ballet, Black Lives Matter, Breitling Ambassador Role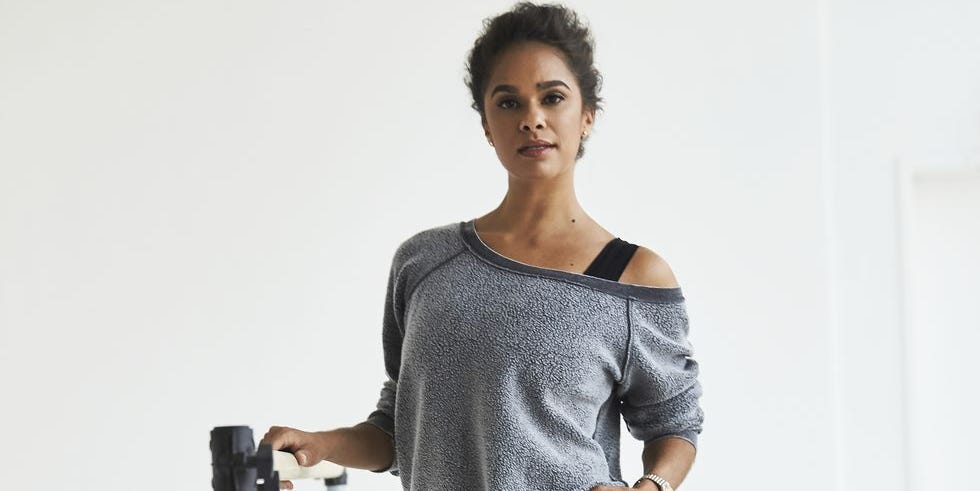 She was Prince's muse, a former member of President Obama's Council of Fitness, Sports and Nutrition, inspired a documentary, starred in a Disney film…and so much more. As the first African American female principal dancer at American Ballet Theatre, Misty Copeland is a legend. She broke the ballerina mold and fought for diversity on and off-stage and reached the top of her field. Today, she's shining worldwide with her virtual ballet Masterclass. It's no shock that Breitling chose her as one of their spokeswomen for the launch of their first Chronomat Ladies Collection. Below, Copeland opens up about her groundbreaking ballet career, Black Lives Matter, and being a Breitling ambassador.
---
How did you start dancing?

I was around four or five. It was just around the house. My mother was a professional cheerleader for the Kansas City Chiefs football team when she was 19 so she grew up with very minimal training in ballet, jazz, and tap. She would dance around the house a lot. Music and dance were a big part of my household and I don't mean any formal dancing. This was just dancing to pop music, hip-hop, R&B, and soul. There was a lot of chaos. I was one of six children in a single-parent home, and we moved a lot, often didn't have a home, often were sleeping in other people's homes or in motels. Music became this escape for me from the reality of my upbringing.
Do you remember the moment when dance became your passion?
One of the most powerful moments for me was around the age of seven. Mariah Carey released her debut album. It was a really empowering moment to see a biracial woman who was extremely talented, and I connected with her in a way that I didn't fully understand until I was an adult. Seeing yourself represented is so important and impactful. Her music motivated me to choreograph, even though I didn't know that was what I was doing. I started to make up dances to her music, and that was when I started to really get involved and feel like this is a way of expressing myself.
What were you like as a little girl?
I hated speaking! I was so shy and introverted. Dancing was a way for me to express myself. And that was how I got on track to eventually having ballet in my life, which was when I was 13.
What happened next?
I auditioned for the dance team at my school. I wanted to follow in my mom's footsteps and when I auditioned the coach told me that I had a lot of talent. She recommended that I take a free ballet class at my community center, the Boys and Girls Club, so the rest was history!
Do you remember your first lesson?
I took my first ballet class on a basketball court in socks, shorts, and a t-shirt. My teacher told me that I was a prodigy. I ended up living with her and training intensely for three years, and then at another school for about a year and a half. I had a very quick training process, and after only four or so years I was at American Ballet Theatre in New York City dancing professionally.
How did it feel when people started calling you a "prodigy?"
All I knew was that I was happy doing it and it was the first time that there was anything in my life that was just for me. So that word, "prodigy," went in one ear and out the other. I don't think that I understood what it even truly meant until I was a professional, when quite the opposite happened. I went from being told "You were born to do this" to "Everything about you is wrong," "You're too muscular," "You're too short," "You're too Brown," "You don't have enough training…" And I was like whoa! I didn't understand how my world could be flipped upside down! But also, it made me really understand the racism in ballet. I knew that there was no way I could go from being perfect in ballet to all of a sudden, "I'm a professional but it's no longer right."
Do you find the ballet world to be competitive?
Of course there's competition, but not like you see in films. I mean, you're competitive within yourself or aspiring to get certain roles or promotions. I've been with ABT for 20 years, so they're like family. I grew up with a lot of the dancers and my artistic director has known me since I was 16 years old. But for me, the biggest upset or pushback was that there's no diversity, and so I was the only Black woman at ABT for the first decade of my career, and a lot of the words I was being told, I wasn't "right," I wasn't a "prodigy," to me through the years were in fact, "You're too Black," "You don't fit in," "You don't belong here." That took a long time for me to understand. Not to accept it, but be able to speak about it openly.
Did you have the moral support of those around you?
I did. The Black ballet community is there, but it's not big. I had incredible Black women who weren't necessarily dancers come into my life and were just there to say that it's OK to be the first. It's OK to be alone, there's a community out there that can support you if you're open to it. And I was.
You have worked very hard to reach this level. Do you ever worry that you missed a part of your childhood or teenage years?
[laughs] I know that a lot of dancers, gymnasts, and athletes feel that way, but I feel because of the way I grew up that this was the best thing that could have happened for me. And again, I started [dancing] later, so I feel like I wasn't burnt out like a lot of dancers who start when they're three and by the time they're 13 they wonder if it's really what they want to do, and want to just play with their friends. That wasn't me. I remember my mother making me go to prom because she didn't want me to miss out on anything. It was one of the worst nights of my life! I don't regret anything! [smiles]
What values did you learn through ballet?
It gave me structure, consistency, and discipline. I had none of that, so dancing brought me so much, such richness to my life. And relationships I made in the ballet world are still friendships I have to this day, from when I was a child.
You've reached the top in a flash. How has your relationship to time evolved?
There are so many layers to it. It's definitely evolved throughout my life. Growing up when I was younger, I feel like I held time to such a high standard. I'm a Virgo, and I'm always on top of things and very organized. I had a lot of anxiety just because there wasn't a lot in my life that I had control over. And time was one thing I could control. As a young person, I remember getting to school an hour before school started to make sure that I was on time and I didn't miss anything. It was really crazy, I remember my mom saying, "If this is what you want we'll do it, but it's a little wacky!" [laughs] It's something I feel like I've always valued, like other people's time, being a professional, and showing up on time. And working with Prince, as an artist he was someone I talked about time a lot with, and in his eyes it was actually quite the opposite of me. For him, time didn't really exist. It was just that he wanted to value his time, and not have any restrictions on it or limitations.
You are one of the new Breitling ambassadors, alongside Charlize Theron and Yao Chen, for the Chronomat Ladies Collection. This is the first collection fully dedicated to women, with the first entirely female squad. What does this mean to you?
It makes sense for me to have this first campaign be so celebratory of women in this moment in such a positive light. Alongside two incredible, strong, diverse women, I think it just speaks to everything that I stand for. I would never have something that risked my integrity just to be a part of a brand, just to make money or to be connected with a brand that's seen worldwide…The collection is very high-end and glamorous but also has a casual masculinity to it. And I feel that's definitely how I would describe my style.
There are two sizes, a big one and a smaller one. Which one do you wear?
I have really small wrists but I love the big one. I feel like this watch definitely represents that women are more than one thing. It can be styled in many ways. As beautiful and elegant as it is, I see a masculinity in both the small and larger one.
Do you believe that watches are a family heirloom you can pass on to your children?
As an artist, I view art in that way. An incredible, beautiful commodity, something where the worth is timeless, whether it's collecting art or having beautiful designer items: clothing, fashion, shoes, jewelry. I think that not only for the tradition and history, which means so much to me, I mean clearly being a part of the ballet world, which is so rich in both. It is a powerful thing to be able to pass down something that has a story to the next generation, and that is valuable. Especially as a Black woman and as a Black American, that's not often something that's been made available to us, so it makes me so proud to be able to own things that I can pass on to my next of kin.
Do you remember your first watch?
I do. When I was younger, well I still do to this day, I had an obsession with sunflowers and sunflower seeds. I remember my mom buying me this watch that had a big sunflower on the face, and it just meant so much to me. I didn't have a lot of valuables. I don't know where it is now! I wish I did! [laughs]
In 2018, you starred in a Disney film. Do you have any upcoming projects or any plans to move into the acting world?
It's been a long journey. I've had a lot of amazing people in the film industry that have come into my life and tried to push me into that, and my ballet career has always been first and foremost to anything, and I'm approaching my 20th season with ABT. I started a production company about five years ago, and so I'm definitely on the other side, creating film and television, documentary-style projects. I am producing a silent short film that I will star in, that's being worked on right now. As well as something else that's in the works that I'd also feature in and it would be my first attempt at acting. I think it's definitely something artistic that I would love to explore, because there are so many things that would help me, push me and challenge me as an artist that I'm up for. But it's not a priority, I'm not trying to make the next chapter of my career as an actress…We'll see.
You expressed that you feel a responsibility to present a healthy image, and that a ballerina can "look like the world," not limited to a certain race or body type. What is the next step for the arts industry?
I've been really fortunate to have all these opportunities, and especially being in a Disney film. The Nutcracker was such a beautiful, impactful and positive example for the next generations to come. A ballerina isn't always white with pale skin. A ballerina can be any color, can look like so many things, and that's forever frozen in the Disney world. I feel like this is the next chapter for ballet, right now in this time where we are with Black Lives Matter. It's giving us kind of a reset button on many levels and it's probably one of the best things that could have happened to ballet, not only with BLM but with the pandemic and theaters shutting down. It's forcing our industry to think of new and inventive ways to present this art form and open it up to a much wider, more diverse audience. It's been long overdue.
How can we bring these changes to life?
We need to reassess the structure of the ballet world. We should be holding onto the incredible technique. That's what has kept it going for hundreds of years, not the racism, not the traditions that aren't necessary that won't help us to grow irrelevant to the world of today. This is an opportunity for us to come together as people and to see that artists come in every shape, size and color, and that we're only missing out if we don't give everyone an opportunity. As well as redefining what the theater is, and what that space means, and that it doesn't have to be stuffy with the stereotypical audience of older, wealthy white people, that it could really incorporate all of our communities…that's how you keep it relevant.
What about reaching different audiences?
If we go into these communities and if we give them the access and the opportunity to feel that they are a part of it, then it will diversify so organically. The moment that you make people feel that they're included, they'll want to invest in it.
Last year you launched your ballet technique Masterclass to offer a look behind the curtain and to show the human side of professional dance. Do you feel this outlet has been successful in bringing a new demographic into the space?
Absolutely! I have this experience from the many opportunities that I had, which is why I want to be as open with opportunities as I can because I know that it can reach such different audiences, whether it's through Breitling or through Masterclass. The types of letters in response that we have gotten from Masterclass have been so incredible, people who you would never think, or maybe themselves would never think they would at all be interested in learning about what seems to be the ballet technique. It's exposing everyone to it, the same person who goes and looks at Stephen Curry's basketball Masterclass may stumble upon mine and it may be a window for them to explore and learn about something new. The fact that it just keeps growing, every couple of months there's another article titled "I Took Misty's Masterclass" and they write about it and then more people are interested, so it's amazing to have a platform where it can exist forever and people can continue to explore it throughout the years.
When do you think you will go back on stage?
ABT is planning on doing a virtual fall season, but I decided not to be a part of it. I'm still healing from a back injury. I can dance now but I can't do what I would do with ABT. So I think they're just using a few dancers, and I'm not even sure how it's going to work rehearsal wise, etc. There's no real timeline for any theaters to be open at this point! We probably need six months or more, to be able to perform in a real studio, to get back to that kind of shape. I don't think people consider all that it takes to physically maintain the athleticism that we do. So, it's going to take a lot of time for us!
This article was produced by ELLE International and originally appeared in the December 2020 issue of ELLE Spain.
This content is created and maintained by a third party, and imported onto this page to help users provide their email addresses. You may be able to find more information about this and similar content at piano.io