Performing Arts
Jingle Bells Telethon Moves To Performing Arts Center | Local News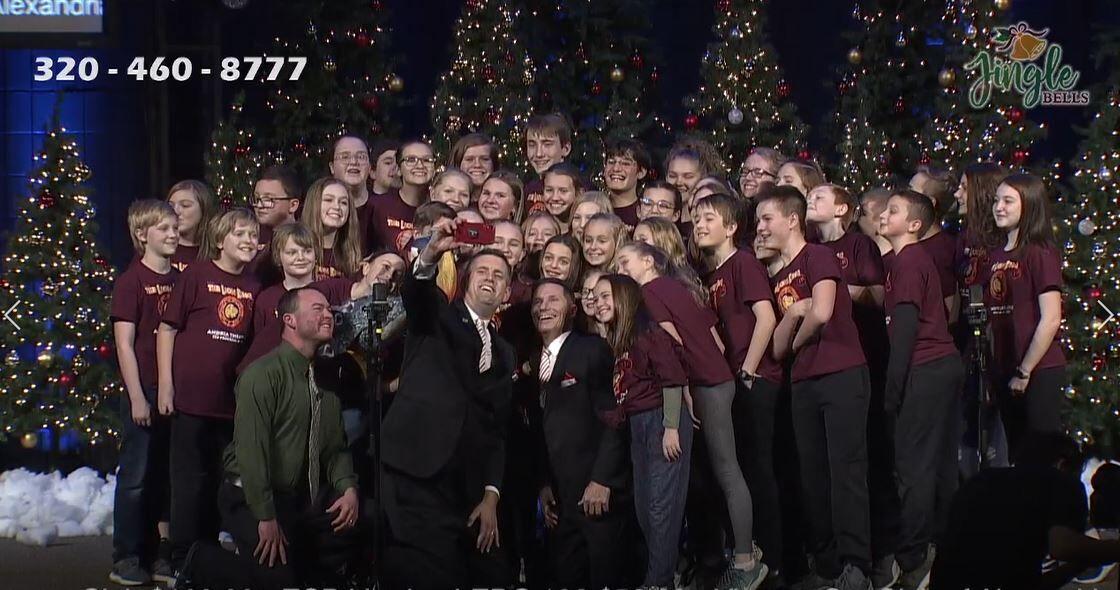 (Alexandria, MN)  The Jingle Bells program has been in the Alexandria and surrounding communities since it first hit the airwaves on KXRA Radio back in 1949.  Ken Bechtel brought the idea of the show from Grand Forks to Alexandria.  That first year last over two nights on 1490am radio.  In 1958 the effort moved to KCMT TV and officially became a telethon.  Many moves and changes have occurred between then and now, but despite all that 2020 threw at us, the show must go on.
Thanks to a partnership with Alexandria Public Schools the show is moving from its recent home at Lake Geneva Christian Center (LGCC) to the high school's performing arts theatre.  Aside from pretty big changes regarding public interaction (which we'll explain below) there is another big change in this year's telethon.  The production of the telethon was taken over in 2015 by Steve Kneprath and his company KPS Media.  This year Alexandria native and graduate Kent Kolstad and his company LIVEWIRE Entertainment will be in charge of the production of the five hour show.
Early this summer Jingle Bells Foundation president Chelsey Koopman and the board began discussing options for the telethon amid the pandemic.  Reducing the numbers of people involved in the production and crowd sizes became a priority.  That led to talks about a change of venue, since the LGCC was much larger than would be needed.  Jingle Bells Executive Producer Becky Lloyd says it was decided to cancel the 2020 plan for the LGCC site and smaller venues, that would basically accommodate the talent during a televised or virtual event, were discussed and sought out.  Kolstad suggested looking at Discovery Middle School's auditorium because it is already somewhat wired for sound and lights.  Longtime host and Foundation member Joe Korkowski began discussions with the school district's Community Education department because it handles public use of its facilities.  After further review, it was learned that the state-of-the-art Performing Arts Center at the high school was available and, according to Kolstad, who has done a number of events in the space, it needs very little additional equipment to turn it into a broadcast venue for such a televised event.  The decision was made to move forward with plans for an event with a limited crowd within the PAC. 
NEW GUIDELINES
Already a very thorough plan was created to meet CDC guidelines and keep participants of the telethon safe.  Executive Order 20-99 added a shroud of uncertainty back into play.  After vigorous attention to detail and close discussions with the school district, a plan was approved that utilizes the PAC's technology but sadly underutilizes it's extraordinary auditorium experience for an audience.  As part of that plan no crowd is allowed to watch from within the auditorium.  That also means that no check presentations or in-person donor recognition could be made.  Everyone, including the acts will need to wear masks while indoors.  The only reprieve from wearing them is when a performer is on stage and safely distant from all others. 
TALENT
The Foundation has decided to incorporate the use of more than a dozen "Classic" performances from as far back as 1989.  Korkowski and fellow host Chelsea Lee looked through a number of old tapes and tried to find acts that the old extended play VHS video quality was usable on air.  Much of the old material will require a certain "forgiveness" by the viewer, but the nostalgia of the moments will hopefully get a pass from the faithful watching from home.  One of the old performances chosen to play Saturday night is Jonathon McIver's 1989 song he sang as a five year old kid, "Come on Ring Those Bells."  Another is a performance from classical performers Jaime Weisenblum and Nina Tobias from their 1999 appearance during the 50th annual telethon.  Expect another wide variety of talent that includes several familiar faces and as always, some new ones. 
COMMUNITY HELP
Korkowski added, "Lynn, Beth and the crew at Community Ed have been great to work with.  Despite their own challenges within the district because of the latest executive order, they followed up immediately with any questions and walked through what was possible, versus what couldn't be done. Mark Halverson from the PAC has also been a tremendous asset in the process as well and really a joy to work with."  Gardonville has been a partner for many years and have been instrumental in figuring out how to distribute the signal on multiple sources during the live broadcast.  
HOSTS
Korkowski will be joined by Tim Urness, Chelsea Lee and Johnny Thill as hosts of the show.  They have met in a number of ways to figure out how to host this "new kind of show" minus a crowd and in-person donors.  They're excited to share a few extras "up their sleeve" and encourage the community to come together (virtually) this year to help raise funds for hundreds of families.
DONATIONS
Donors who typically like to make an on-air appearance during the telethon are being encouraged to send a photo of themselves holding their check and emailing that (with corresponding information) to [email protected].
PHONE BANK
The phone bank will be manned by five different groups.  There will only be four operators during each group and they will be high up in the second level of the theatre, away from other the acts, backstage.  Acts will arrive in a staggered fashion to help promote social distancing among them and others.   The phone number to call during the telethon is (320) 460-8777.
HOW FUNDS WILL BE USED
Koopman says that the funds from this year's telethon will be used to purchase grocery cards from both Cub Foods and Elden's Fresh Foods.  The card value will be based on the size of the family.  Foundation member April Schmidt says as of Wednesday more than 700 names have been sent in to be on the receiving end of the donated food.  Matt Gilbertson is typically in charge of ordering and coordinating the food distribution efforts.  He says that this year, because of the current restrictions, basket assembly will not take place.  That also means, for the first time in decades, the Jingle Bells effort will not include toys.  Koopman says that any funds above their goal of $60,000 will be used for the Foundations other charitable efforts.  That includes helping food shelves throughout the area.  Two of the food shelves are contained within the district at both the high school and the middle school.  The Foundation also provides monetary assistance to persons experiencing life-altering adversity such as a fire or terminal illness through their hardship funds.
SHOW TIME
The 72nd annual Jingle Bells Telethon starts at 5:00pm and runs until 10:00pm.  it can be watched on the following television stations throughout the area:
Charter cable Channel 181

Selective TV Channel 21.4

Gardonville Channel 4

Park Region Channel 1

Runestone Telecom Channel 6

Arvig Channel 14

Directly on the Jingle Bells Foundation website