Performing Arts
Jefferson Performing Arts sets stage productions, comedy shows and a tribute to Paul Robeson | Arts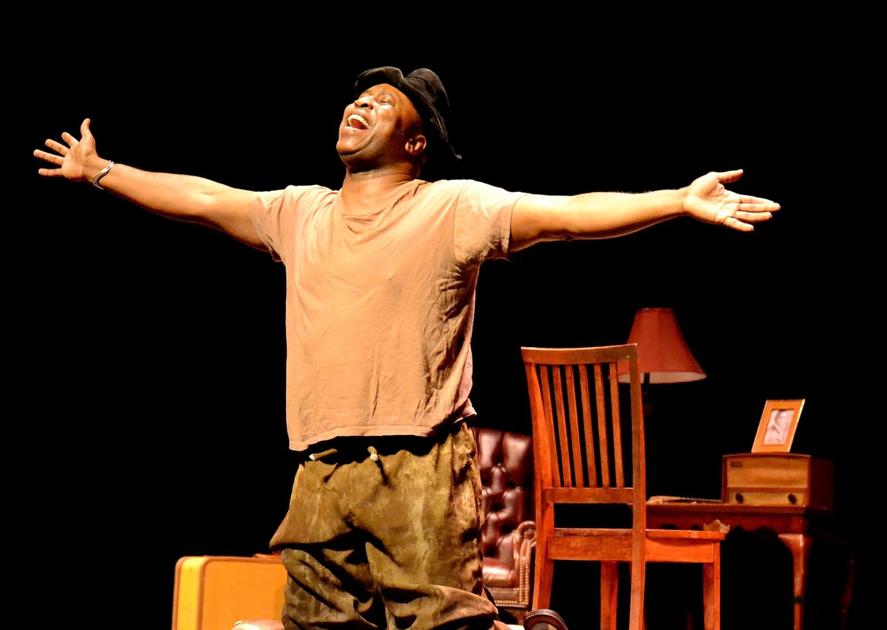 Slowly, in cautious, safety-conscious steps, some of the New Orleans area's performing arts organizations are coming back to life after nearly a year of pandemic shutdowns. Among them is the Metairie-based Jefferson Performing Arts Society.
In a recent announcement, JPAS unveiled a series of works that will run at its theaters on the East and West Banks of Jefferson Parish. Three of them are small-cast stage productions, plus a return of its popular "Comedy Zone" shows and a season special paying tribute to the late African-American singer, actor and activist Paul Robeson (1898-1976).
JPAS' 43rd season opens this weekend with two performances of "The World is My Home: The Life of Paul Robeson," a one-man show written and performed by Stogie Kenyatta, a Brooklyn-born, Los Angeles-based actor and playwright. Shows are at 7:30 p.m. Saturday night and 2 p.m. Sunday at the Jefferson Performing Arts Center on Airline Drive in Metairie.
Following that will be "One Flew Over the Cuckoo's Nest" (Jan. 29-Feb. 7) directed by veteran local actor Janet Shea, who will also be co-starring in the next production, "Arsenic and Old Lace," with Helen Blanke from Feb. 26-March 7. Kris Shaw will direct that production. Both shows will be staged at the JPAC.
The final production of the spring series at the JPAC is "A Comedy of Tenors" (April 9-18), a sequel to Ken Ludwig's 1989, Tony Award-winning "Lend Me a Tenor." New Orleans-born tenor and Metropolitan Opera star Anthony Laciura will direct.
On the West Bank, at the Westwego Performing Arts Theatre, "The Comedy Zone" monthly performances return on February 19 and 20 and will continue through June, featuring a changing cast of local and national comedians. Shows are on Friday and Saturday nights at 7:30.
"Due to the current ban on live indoor singing and orchestration, the season has been revised to include only non-musicals," JPAS artistic director Dennis Assaf said. "We have taken time to find shows that are especially entertaining during these trying times. We can't wait to welcome everyone back to the theater safely."
Assaf also hinted that the musicals originally scheduled for the 2020-21 season, "42nd Street," "An American in Paris" and "Sweet Potato Queens: The Musical," might be staged next season if possible.
Assaf said he was elated over the signing of Laciura to direct the "Tenors" show. "Can you imagine anyone more qualified?" he said. "He is a top comedian in his own right and, of course, being Italian and a tenor, and with all the rich experience he's had in opera, I can't wait to see how he's going to tear into that script."
Assaf was also especially pleased to have JPAS presenting the local premiere of the Robeson one-man show. "A lot of people today just don't know of him," Assaf said, referring to the singer-actor famous for his role as Joe in "Show Boat," in which he sang "Ol' Man River."
"But he was much more than that," Assaf added. "He was a truly amazing man. A brilliant athlete, a wonderful artist and activist, he spoke 15 languages, had an amazing career in Europe and dealt with the racial issues here in this country. Assaf also noted that the timing of the show is intentional, set to coincide with the Martin Luther King Day holiday and the upcoming Black History Month in February.
Kenyatta, who has been touring with his one-man tribute show since 1999, described Robeson as "the most unique and attractive of all of our African-American heroes. He was an All-American football player who went on to the pros. He was valedictorian of his class (at Rutgers University), went to law school, performed onstage, sang, danced, did movies and above all was an activist for racial equality."
Robeson also attended classes at the University of London (U.K.) where he befriended leaders of the African independence movement of the early 1960s and, with several of them, he co-founded the Organization for African Unity, Kenyatta said. He also said that Robeson was a mentor to Jackie Robinson, Harry Belafonte and Sidney Poitier, all of whom started a foundation to bring qualified students from Africa to study in the U.S., including Barack Obama's father.
In portraying his character from Robeson's childhood into his 70s, Kenyatta said he goes through five costume changes and uses props to emphasize points he is making as both narrator and the character himself. The show is two hours, with one intermission.
Addressing the effort involved in portraying his character at so many phases of his life, Kenyatta said, "It really helps that I wrote the story. To pull it off you have to be really committed to the acting. It just really embodies Robeson, mentally and spiritually, as you take the journey with me. It's an emotional show, full of triumph and tragedy."
Jefferson Performing Arts Society
Spring 2021 Schedule
Jefferson Performing Arts Center
6400 Airline Drive, Metairie
The World is my Home: The Life of Paul Robeson
Jan. 23-24
One Flew Over the Cuckoo's Nest
Jan. 27-Feb. 7
Arsenic and Old Lace
Feb. 26-March 7
A Comedy of Tenors
April 9-18
Westwego Performing Arts Theatre
177 Sala Avenue, Westwego 
The Comedy Zone
February 19 & 20, March 19 & 20, April 23 & 24, May 21 & 22, June 18 & 19
To see a full schedule and purchase tickets visit www.jpas.org or call (504) 885-2000. NOTE: due to COVID-19 restrictions, seating is limited. Early reservations are strongly recommended.