Visual Arts
In 2020, 'Artivism' Reigned Supreme In Boston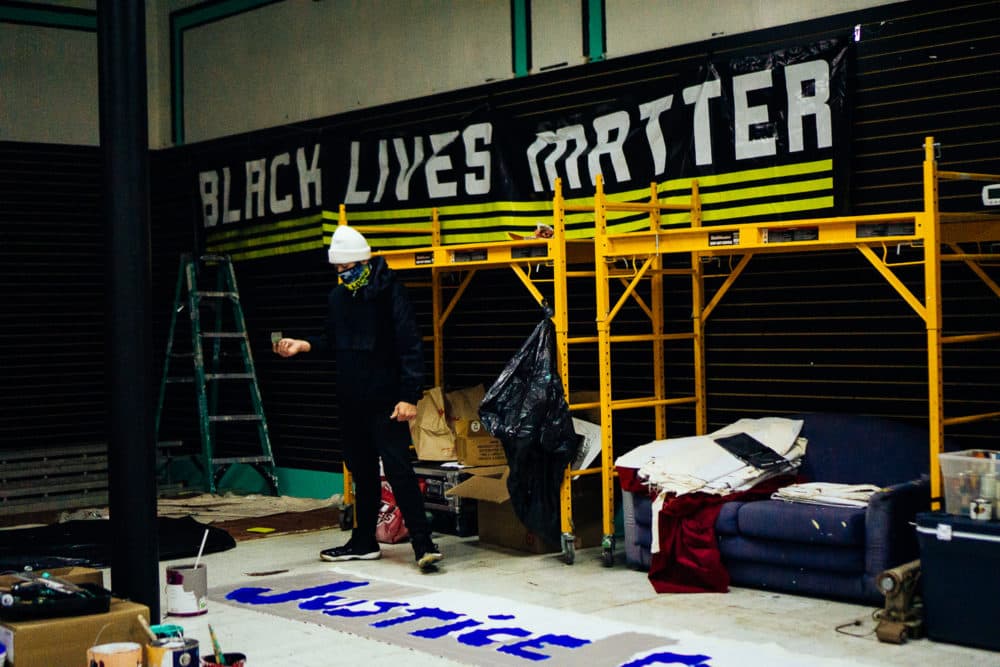 On a corner in Egleston Square which I pass almost every day once stood an artistic statement: a mural that doubled as an epitaph and a vision board. The wall was adorned with subaltern messages that resonate to an audience today: "I have a dream." "Stop the violence." "I'll do what I can to survive." One local news station described it as a "social blackboard" and a "cry for happiness," the messages having been painted by local Puerto Rican street youth who called themselves the "X-Men."
The mural is long-gone, the brick wall restored to a nondescript state. A block away, the looming condo development at 3200 Washington Street has brought questions of gentrification to the residents of the modest triple-deckers nearby. But the sentiment remains in the locus of the Boston artistic community today. In the face of looming and creeping threats to social stability, Boston is coming back strong with a dual-pronged approach to social ills. In 2020, Boston is a city not only of art, but of socially-informed and forward-thinking art. Of "artivism."
According to Google Trends, the word "artivism" has been used online since 2009, but its roots go back at least to the anti-globalization activism world of the late '90s. That time was marked by large-scale protests like the Seattle uprising against the World Trade Organization, where both artistic media and "protest theater" came to center stage as insurrectionary tactics. What defines Boston's cadre of "artivists" in 2020 is not just a broad understanding of social movement concepts, but its own movement for hope through art — a rallying cry for interpersonal and community survival.
One such hallmark Boston institution that has survived into the new decade – come hell or high fever – is the mouthful of an open mic called If You Can Feel It You Can Speak It. The social justice and queer-centric space, affectionately referred to as "FiSi," had been going on monthly in person for 11 years – until the pandemic hit. If that wasn't enough, their former host, the Bella Luna & The Milky Way in Jamaica Plain, announced that it would not reopen given the chaotic circumstances for nightlife venues and eateries.
The FiSi events previously drew a regular packed house at Milky Way, having grown its audience in a decade when many events and event spaces came and went. The spirit of the mic, infectious and unbreakable, has prompted its founders to keep its torch well-lit as the pandemic rages on.
"I was concerned about the multi-sensory experience we co-create in shared space being lost in translation over the virtual platform," says co-organizer Jha D. "However, as I should've known — our community-led with resiliency and showed up in all of our magical ways and expanded far beyond the small squares on my screen."
The mic is the brainchild Team BeSpoken (TBS), a performance artist collective spearheaded by two Black Bostonians, Jhanéa "Jha D" Williams and Edward "D. Ruff" Bryant. As a unit, TBS has performed in the venerated halls of the Isabella Stewart Gardner Museum. At the former Milky Way, their "open open mic" was an intentional space, one where performers must give content warnings before any triggering content, and if they should fail to do so, open themselves up to dialogue from the listening audience.
"There's a different level of freedom that comes with being able to express yourself as a way of learning more about yourself," remarks Williams.
Among the members of Team BeSpoken is Phree, a performance artist and organizer of resource groups for queer and trans people who describe themselves as "masculine of center". In true artivist fashion, Phree made a digital appearance in June as a headliner for a performance festival aptly titled "Activating ARTivism."
The first iteration of "Activating ARTivism" took place as a "livestream benefit festival" of 15 artists and performers, with the beneficiaries being the Louis D. Brown Peace Institute and Violence in Boston Inc. Over those two days, those involved describe a transformative experience that tied together the threads of speaking one's personal truth and overall calling truth to power.
"I found out about the event about a week before it was going to happen, and I immediately hit up the organizers saying, 'Can I get in on this?'" recalls recording artist Jonn.Beatty. "It was a blessing, and also an obligation in duality. The very theme of the event was in direct alignment with my beliefs of helping people when they need help."
Beatty has kept that energy as his through-line in his music. In 2019, he released Free, an EP centered on articulating freedom in an anti-Black world. This fall, his offering to the world was "Hot Lemonade," a single aimed at rallying people of color toward the polls on November 3rd. The crass, forthright track was, in Beatty's consciousness, an artistic equivalent to the organizing work being done across the country by Black and Indigenous voting activists including Stacey Abrams in Georgia and Allie Young in Arizona.
At least one Boston-based colleague of Jonn's is aiming their artivism at a larger and broader audience and consciousness. This colleague is Medford-based R&B and hip-hop artist Genie Santiago, who performed at "Activating ARTivism's" second iteration in August.
Genie Santiago released her bilingual single "Revelación" with one material goal in mind: helping people at the border. The 25-year-old songstress donated all sales of the single from Bandcamp to Border Angels, a California-based aid agency that does relief work along the U.S.-Mexico border. With the music video for "Revelación," directed by MassArt alum Guadalupe Campos, Santiago and her collaborator ALGO doubled down on the social message by incorporating protest motifs and imagery.
"I've been trying to heal my own intergenerational trauma," Santiago remarks. "After all, we are in a collective struggle to decolonize and fight white supremacy."
Santiago is also the organizer of the Sunflowers performance series, a music event space that aims to "mold intimate bonds between audience & performer." Santiago managed to adapt the series to pandemic times, hosting livestreams through the spring featuring beloved Boston names such as DJ WhySham and STL GLD's Tim Hall.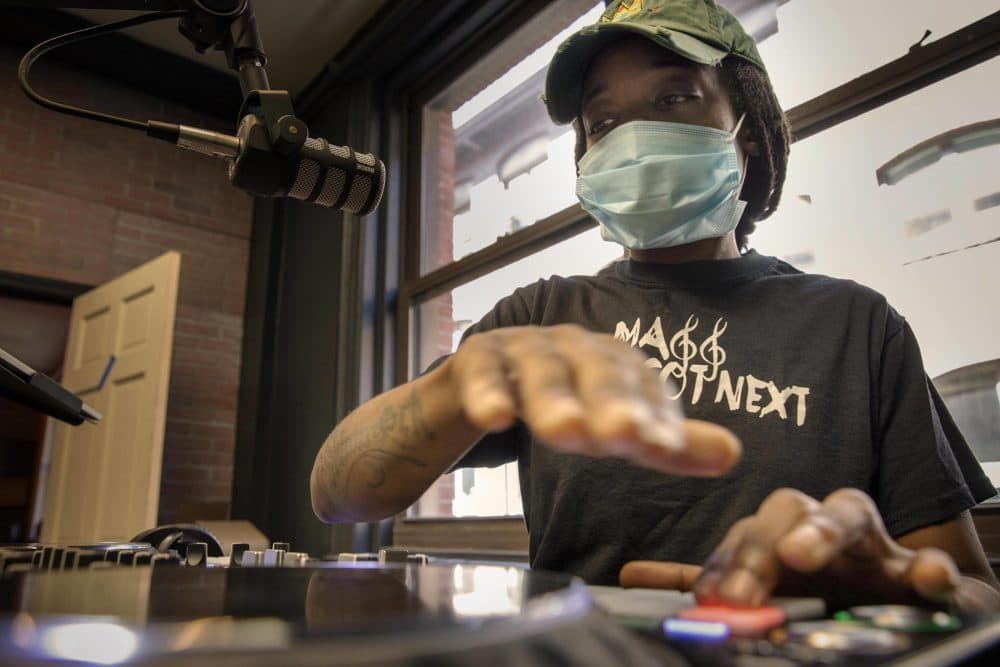 One of Genie's livestream guests in April was Payal Kumar, an illustrator and occasional poet based in Brookline. In their day job, Kumar works as a reproductive health specialist; in their artistic practice, Kumar creates visual art on themes of community accountability and safety with visual cues springing from their South Asian heritage. In their recent repertoire: a zine aimed at diasporic Desi Americans at combating fascist politics manifesting in India.
"Activist, to me, is a word that kind of doesn't have meaning anymore," Kumar relates. The day we spoke, Kumar had been resting after an action supporting striking farmers in India that they had co-organized. "This might be an unpopular opinion, but that said, I don't necessarily describe myself as an activist as much as a visual artist. I maintain the belief that the artist's role is to imagine the revolution and illustrate it, so that once we see it, we know what we're working towards."
One final thought is that of the paradigm of community care. Distinct from the allegedly-capitalist and individualist notion of self-care that went viral in the 2010s, community care aims to center integration in one's community as essential to bringing about personal and interpersonal wellness. For Amanda Shea, co-organizer of the "Activating ARTivism" series, that took the form of both uplifting performances and raising money for organizations doing vital community work.
"The first event, we raised over $5,000, and the second, over $2,000 – just with artists pushing the event out."
Shea told the Boston Globe in July about turning toward self to process the times we're in. The resource presented above, a discussion for Arts Connect International, is that last missing piece for the artivists of Boston; that the creative process must come with rest and regeneration, and not burnout. Shea herself will be doing so by leaving Boston temporarily to spend time with family members out of state.
"I don't self-identify as an activist — I don't feel like I've done enough work. But I use my art as a form of protest."