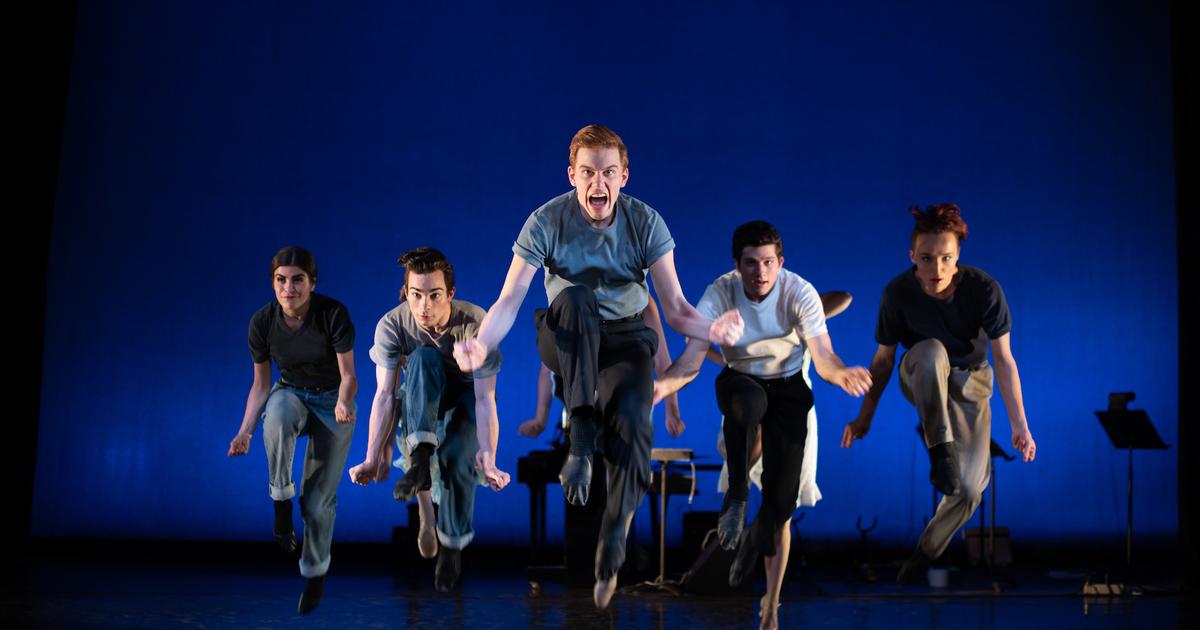 Photo Source: Courtesy of LIU
We're profiling the best performing arts programs in the U.S. and beyond with Reaching Higher, our inaugural questionnaire series diving deep on all things higher education: What should you look for when choosing the right school for you? What do college admissions pros want from their freshman class? What opportunities await students during their studies and post-graduation? Learn everything you need to know right here!
With Long Island University's LIU Post in Brooksville, New York, and LIU Brooklyn, students are afforded two locations to get a first-rate performing arts education perfectly located in and around the major industry hub of New York City. Dr. Jennifer Holmes is the dean of various performing and visual arts schools within the LIU system, including the new Roc Nation School of Music, Sports and Entertainment. She talks about it all while taking our Reaching Higher questionnaire, and she reveals just why LIU could be one of the best options for prospective students going into 2021. Plus: Holmes offers a Backstage-exclusive discount code and waives application fees for interested students. Learn about that and more below. 
Long Island University (LIU) has extremely rigorous conservatory training degrees at two of its New York campuses. Each program has its own unique training process and link to the professional world. Both programs have strong foundations in scene analysis, physical and vocal training, and acting technique. LIU is also home of the new Roc Nation School for Music, Sports, and Entertainment so there is a lot of energy and excitement and opportunity for collaboration with those students, faculty, and guest artists, as well. 
Our beautiful, bucolic campus in Brookville, New York, only 45 minutes from New York City, houses our much-lauded Musical Theatre BFA and Acting BFA. Our actors train in Suzuki and Michael Chekhov techniques to activate the meaning of the scene or song. Our unique pedagogy in the junior year focuses on either Shakespeare or physical theater sourced in the Suzuki training—and those teaching it are the people who actually developed it. Many people sing well, but we make sure our musical theater graduates really can act the song and embody the inner life of the character, and that's why our graduates are working so much on Broadway and beyond. Our graduates have appeared on Broadway in "Dear Evan Hansen," "King Kong," and "Be More Chill," as well as in Shakespeare festivals and productions around the country. Casting directors say the difference in our students is the authenticity they bring to the characters in the audition room.
LIU Brooklyn is the home of our Acting for Theatre, Film & Television degree in partnership with the New Group, a renowned theater company in NYC. The program is designed to connect students with the growing downtown Brooklyn arts, film, and theater scene, and with Broadway, Off-Broadway, Off-Off-Broadway, regional theater companies, as well as the Manhattan film, video, and webcast industries. Prior to the pandemic, there were over 60 projects filming in NYC, so our students live and train right in the heart of the business. The program is unique due to the partnership with the New Group, our on-camera sequence, and a thorough business sequence. We prepare students by beginning their studies with foundational acting, movement, and speech techniques and then engage them in a two-year on-camera sequence. Throughout their studies, our students take courses, network with industry professionals, and participate in master classes and talkbacks with actors performing in the New Group's Works. In recent years, F. Murray Abraham, Matthew Broderick, Jesse Eisenberg, Ed Harris, Sutton Foster, Holly Hunter, Chloë Sevigny, Dianne Wiest, and Kunal Nayaar, to name a few, have all worked at the New Group. Unlike other training programs, as early as in the first semester they begin learning how to navigate the industry and market themselves. Students prepare headshots, résumés, and reels, and they develop their own personal website and online presence through social media.
Both of our programs at LIU have a really tight-knit pedagogy that is designed to build cumulatively, allowing us to maximize what a student can learn in their eight semesters. While all training programs have sequences, they are not always in dialogue about how all the pedagogy interfaces with each sequence. Our faculty is very deliberate in structuring the learning from course to course and making sure skills introduced in one course are further developed in the next. This is what allows our students to flourish and grow into really strong and dynamic performers.
Our BFA students can expect to have classes in their major every semester—and there are many options for performance-based electives that can be added as they complete their core classes and their schedules open up.
Programs at both campuses require two contrasting monologues no longer than two minutes. Musical Theatre requires 16 bars of a song. We ask students to bring their own pre-recorded accompaniment. Pre-COVID, we would also have a dance call for Musical Theatre. Brooklyn's audition process includes an interview.  
The biggest piece of advice for students is to do your best to relax and focus on the work. We want to see you at your best, and when every student walks in the door, they should remember that those of us behind the desk really want them to do well. Now, during COVID, the biggest advice we can offer is to test out what the conditions are in the room that you are Zooming in or recording from: Is there a lot of echo? Is the lighting good? Is the background distracting? How is your WiFi? You want to be able to minimize the potential for things to go wrong so that you can relax, be yourself, and share your work.
We look for authenticity, courage, curiosity, imagination, and passion for the art form.
Our Brookville programs offer a showcase for our graduating seniors. They audition for the showcase, and if accepted, they participate. We ordinarily do this in NYC for industry professionals. This year, we will have a virtual showcase, which will help our students cast an even wider net and reach more industry professionals. This year our digital showcase will not only highlight their acting and musical theater training, but will also feature devised work, if that was the focus of the student's work in the last two years.
The department in Brooklyn, in collaboration with the New Group, holds a senior showcase in NYC in May for agents, casting directors, and other industry professionals.
It helps to really get to know the faculty. Who do you want to study with for the next four years? If schools offer sessions to meet the faculty, attend those sessions. The faculty are an important part of your decision. The location is important, too; studying in, or in close proximity to, NYC provides a competitive edge to enter the business. We always recommend that students talk to current students; ask them what they are learning—not just what classes they take, but what their process is; ask what their experiences are like, how they've grown since they began the program, ask what the culture of the department and university is like. You'll be spending the next four years together; it needs to be a good fit.
We like to emphasize that students should focus on process: What is the foundation of what you will be learning? What happens inside the classrooms is critical. If that is innovative then the rest will fall into place. High schoolers should also be open to other areas of the field. Producing, directing, stage management, or design may not be offered in most high schools, but these are professions you might explore in your undergraduate program. Students often discover that their passions do not rest in acting alone. The profession itself is leaning more and more towards multidisciplinary—actors, directors, and writers have to create, produce, market, and design their own work. Prepare yourself for the future, and seek out any and every opportunity to add another skill. 
We have been adapting in several different ways—redesigning our training to accommodate for social distancing and wearing masks, for example. We have been looking at how we ordinarily do the things, and considering how we can adapt to the current moment. We have been rehearsing in very different ways, and our production season has adjusted to account for the demands of streaming performances. It has been an exciting challenge. Some of our students who have been experiencing the change in learning and rehearsing have the following to say:
"Being a theater student during the pandemic has been difficult, but the faculty and staff at LIU Post has made it so much easier. Our teachers have made it clear that while our safety is their top priority, they still refuse to compromise the quality of our education. It's been difficult adjusting to not being able to be close to my scene partners and professors, but we have found so many more beautiful ways to connect that don't involve physical touch. Our program is based in physical training, and our professors Maria Porter and Matthew Mastromatteo have modified the training in a way that utilizes social distancing as a tool, and we use it to explore new ways of working in the classroom and creating art. I am acting, directing, devising, improvising, singing, dancing, and creating with my peers in a safe way that is challenging me as an artist and helping me grow in ways I haven't in previous years. I am learning how to work as an independent artist, and gaining new skills that I can take into our new world of entertainment that has already been moving rapidly towards digital art. I was recently in a production that was rehearsed virtually and filmed in person using social distancing, and it was an incredible experience. I got to work with the incredible Hannah Ryan, who created a new combination of filmed theater and live performance to create a new format of theater that can be presented virtually. I gained experience with acting for film that I never would've gotten in a normal school year, and it was one of my favorite learning experiences. I also got to watch one of my performances for the first time, and it was one of the greatest feelings to get to see something you were a part of come to life in this way. It's hard not get lonely at times when you're taking classes virtually, but the support of my peers and the faculty at Post has made me feel like I always have a community behind me. We are navigating this as a family, and there is always someone there if I have a question, need help coming up with new ideas, or if I just need someone to talk to. I could've never predicted that this is how this year would've gone, but I also can't imagine going through this year with anyone other than my LIU Post theater family." —Jordan Horne, junior, Musical Theatre (she/her)
"If it were not for the immense, undying work and devotion of my professors in the program, I could not have worked so hard during such a time. Their energy, encouragement, and excitement drove me to keep exploring with the training and approach my material with a keener insight. Rehearsals and classes with masks, socially distanced, has provided an obstacle for me as an actor that will only later become more rewarding in my understanding of the craft when things return to normalcy and actors can perform live in-person again. While I long for what I once knew as the theater and wish to return to the stage with a maskless face (unless roles like the Phantom come my way!), actors have always learned to adjust accordingly." —Quinn Doyle, sophomore, Theatre BFA (he.him)
Theater is absolutely vital to our culture. Theater has always been influenced by the world in which it has been created, and this remains true today. Ultimately, the theater that emerges after this time will be even more dynamic as it will necessarily respond to what we are all living through. Often, creative solutions emerge when we are under pressure, and we look forward to training the artists of tomorrow, who are superbly equipped to meet those demands. Students should continue to research history, languages, culture. Read all the plays you can get your hands on. Study characters, engage in play analysis, learn about horticulture and geology and agriculture and the industrial revolution. This is how you will enter worlds and build worlds as an actor, writer, director, or some combination of any of these disciplines. Keep learning. It is also how you will connect with more people who may not share your experiences and identities. This will make you a more full, deep, empathetic person and also a better artist. Performers, stay hopeful and participate in virtual performance as much as possible.
We are offering Backstage readers an application fee waiver. Go to liu.edu/apply to start your application and enter the fee waiver code: LIU2021.
We believe that LIU is where your career begins, from guest artist companies such as Martha Graham to experiences meeting executives at HBO to performing with the award-winning Post Theatre Company, we are constantly finding ways to connect our students to the industry.
Our dance show this year celebrates the change in the world. Fritzlyn Hector, professor and director of dance shares the following about the show: 
"Our LIU Post PCDC Dance Film "Dance the Change" represents our unwavering passion and commitment to dance at LIU Post regardless of these unprecedented times. It is a testament to our purpose and resilience in the face of adversity and reform during these difficult times. We must still show up for dance because dance did not leave us. Dance is still present to serve as a healing agent, activist, and inspirational platform. How and where we create dance has changed, but why we create dance did not. Therefore, our motivation did not dim, but instead our motivation continues to trounce the struggles and limitations we still continue to face. Dancers are trained to improvise and adapt to space with new thoughts and movements. Our LIU Post PCDC dancers will continue to rise to the occasion. We are the dancing change! I did not panic…. I decided to simply think, re-think, reimagine, and step up to the challenges of the unknown. I chose to be brave for dance. I chose to be positive for dance. I am also testing the range of possibilities with the limitations we have. I feel it is important to still strive for a level of rigor that somehow makes the challenges we face somewhat bearable." 
Looking for remote work? Backstage has got you covered! Click here for auditions you can do from home!