Festivals
For Its Sydney Festival Debut, Bangarra Dance Theatre Pulls From 30 Years of Repertoire – and 65,000 Years of Culture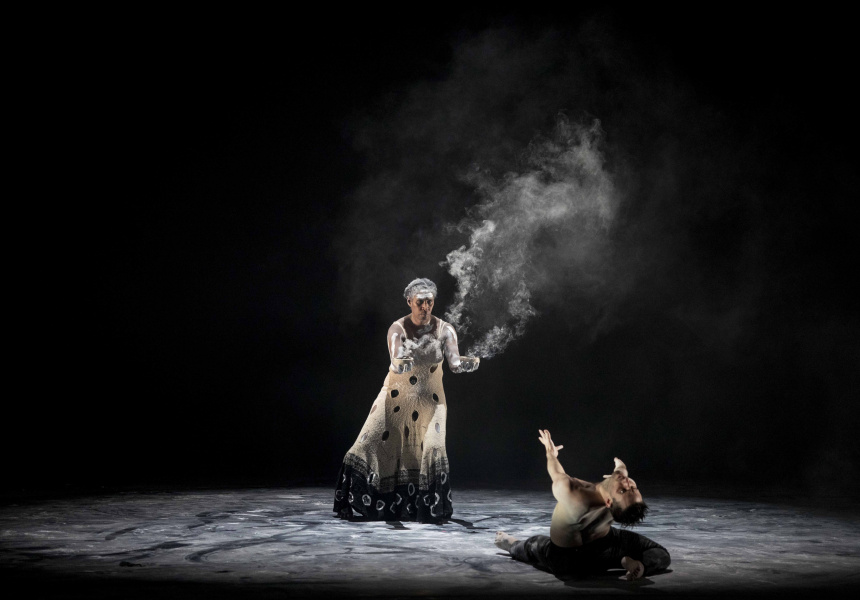 If there's a silver lining to be found in the Covid-19 outbreak in Australia, it's that it's enabled Sydney Festival director Wesley Enoch to realise a long-held ambition: to include Bangarra Dance Theatre in his program for the first time.
In a normal year, the nation's in-demand Indigenous dance-theatre company would be taking a well-earned rest during January, following a gruelling national and international tour. But not this year.
Like all other dance companies, Bangarra and its 18-strong team of dancers were forced to adapt to living-room barre classes and Zoom rehearsals in 2020. Even after it had been given the green light to return to the studio, the company was forced to postpone its planned world premiere of Sandsong at the Sydney Opera House in June, along with its entire year of scheduled performances.
But it wasn't all doom and gloom. Not only did the break from touring give artistic director Stephen Page and associate director Frances Rings a chance to teach the company's rich repertoire to its newer dancers, but a livestream of the company's 2017 work Bennelong was seen by an impressive 20,000 viewers.
And when Enoch came calling, Bangarra was finally in a position to say yes.
"Wesley always wanted Bangarra to be involved in his Sydney Festival, but it was always hard because we'd only do one new work a year, then the dancers would take their annual leave, so commissioning a [festival] work was hard," Page tells Broadsheet.
Happily, during his five-year tenure as festival director, Enoch – a proud Noonuccal Nuugi man – has ramped up Indigenous programming. Having Bangarra perform one of the centrepiece shows is the icing on the cake for this, his final festival, before Olivia Ansell takes over next year.
For five nights from January 20, Bangarra will perform Spirit, a retrospective drawing on three decades of repertoire. The show begins with a 20-minute excerpt from Brolga, Bangarra's 2001 work inspired by an ancient Dreaming of a young girl who transforms from human to brolga, billed as "the original Swan Lake". Spirit continues with vignettes from other productions, including Ochres (1995); Bush (2003); Skin (2000); and Walkabout (2002), which explores the challenges of living between two worlds, addressing the pain of the past while moving forward respecting cultural values. The piece concludes with Nyapanyapa (2016), inspired by the beautifully textured paintings of Yirrkala artist Nyapanyapa Yunupingu.
"It's about getting back before an audience – bringing Bangarra's music; Jennifer Irwin's costuming and imagery; native-tongue language; and David's beautiful music," says Page, referring to his late brother and gifted songman David Page, whose work as Bangarra's musical director helped bring the performances alive.
Page cautions that Spirit won't be what Bangarra's regular audiences are accustomed to. "They said, 'You've got to bring your magic and theatrics to the stage, but in our sacred cave at the [Sydney Opera House] Drama Theatre we create that experience. To bump that out and put it outdoors was a bit of a challenge, but with David and [composer] Steve Francis's music, and the costumes and the movement of the dancers, hopefully all those combinations will come together."
Following the festival season, Bangarra will tour Spirit to regional NSW. Afterwards, Page hopes to take his dancers back on country to the remote regions of the Kimberley for a cultural intensive, working with Elders collaborating on the company's new work, Sandsong.
Initiated by the late actor Ningali Lawford, Page's dear friend and a Bangarra alumnus (who died suddenly during the Sydney Theatre Company's 2019 tour of The Secret River in Edinburgh), Sandsong traces the ancient memories embedded in Kimberley country, and creates new narratives for Indigenous futures.
"The beautiful thing about us building cultural relationships in the Kimberley is we've all worked with Ningali's family, many years ago. Ningali did Walkabout and worked on [Frances Rings's] Rations and Rush, and she always wanted to do a work with me," says Page. "To have the opportunity this year to go on country and hopefully have a strong Opera House season in June [is] something we were talking about before Ningali passed, so it's great for them to endorse that story to be told."
But for now, Page's focus is on his dancers returning to the stage and audiences returning to watch Bangarra. "Spirit is a wonderful cultural smorgasbord of stories, especially at this time. Hopefully it will be medicine for people's souls."
Spirit will be performed at The Headland at Barangaroo Reserve from January 20 to 24 as part of the Sydney Festival, and livestreamed nightly from 8.30pm. More information and tickets here.