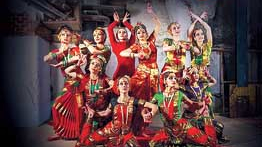 We browse through a coffee-table book that taps into the treasure of Indian history and tradition
---
---
Bharatanatyam exponent Sohini Roychowdhury, a student of Modern High School for Girls, St. Xavier's College and Cambridge University, who has Danny Boyle among many other milestones on her illustrious CV, was one happy soul when we connected with her recently. She's just walked down the memory lane with Dancing with the Gods, a coffee-table book by Monidipa Mukherjee and Sutapa Sengupta that decodes the various layers of Bharatanatyam through the journey of Sohini's dance troupe Sohinimoksha.
"For Indians, it has special meaning and perspectives," said Sohini, who loves coffee-table books on art like the ones on Dali, Michelangelo, Rembrandt and Rubens, among others. The book also touches upon other classical Indian dances for a holistic understanding. Published by Roli Books and priced at Rs 1,995, this "Covid child" launches on January 8 and will be available at bookstores and on online platforms like Amazon and Flipkart.
What is the genesis of the book?
The authors, Monidipa Mukherjee and Sutapa Sengupta, were the creative directors of J. Walter Thompson and then they started their own creative unit, Thursday's Child. I have met them through work and one day they both said that they wanted to do a coffee-table book… it had to be about Bharatanatyam and mythology with my perspective. The pictures are from my archive. My international students give it a global feel.
We have spoken a lot about Shakti and the mother goddesses and how it is a cult which is everywhere in the world. Those perspectives and philosophies of Sohinimoksha have been all brought together. We are about connecting civilisations, inclusivity and global harmony. That has been brought out. Dance having a voice.
Take us through the book…
People can expect a coffee-table book which captures the vibrancy of Sohinimoksha dance operas across the world in terms of look, colour and feel. Usually coffee-table books tend to be in staid colours. Unlike most coffee-table books, it has a lot of information which a lot of people don't know and it also gives a complete picture of Bharatanatyam and mythology to a person who hasn't been initiated or is a little interested. Even a kid would love seeing the pictures and a 65-year-old too would love to connect with the similarities between Maa Saraswati and her Egyptian counterpart or her gypsy counterpart in the north of Spain. Maa Kali has a counterpart in Sara La Kali, no one knows.
The philosophies and the layers are camouflaged in an easy way. If you cannot explain it to a five-year-old, you don't know your material yourself. When a Ruskin Bond writes, you get it so easily. Easy storytelling is important.
How much time did it take for you to put it together?
It took about three months. Being an academic dancer, I had all the material from all my seminars. The pictures are from the last nine years. I have worked extensively on Rumi's poems and have had seminars in many universities about Natya Shastra for the Phd students…. I didn't have to do further research for the book.
The name has a lot of romance…
Bharatanatyam is a temple dance. It is in the realm of dance and divinity coming together, which is a Vedic philosophy. And, it's not religion. It is philosophy and spirituality which is inclusive.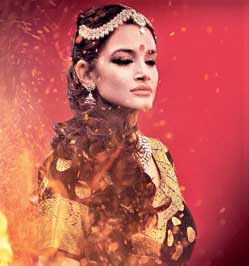 You have delved into the lesser-known facts…
The first thing is about the devadasis. Who were the original devadasis and what they went through is neither known to the western world nor to the Indian world that well. People make up their stories. In the West, they love to think that the devadasis are impoverished prostitutes or courtesans, which they were not. I have decoded their history.
Also, inclusivity towards the third gender. The western world thinks they have achieved it, but in our epics, there's the example of Shikhandi. I have done a full production on Shikhandi at Kala Ghoda to bring about acceptance and respect towards the third gender because they are also a part of nature. It is an essential part of our Puranas and epics. Then the inclusivity of the LGBTQ was also a part of our shastras and Puranas which shows how tolerant our philosophy is.
The book ends on an inspiring note…
That is our Vedic philosophy of inclusivity and harmony and it is about finding the light within oneself, especially in the Covid times.
How was it revisiting the last decade?
It was almost like falling in love again, plus, I was recounting with every student of mine. We joke that husbands, boyfriends and jobs have changed so many times in the last 10 years, but we are all together at Sohinimoksha.