Performing Arts
Dance Company BalletX Is Revolutionizing Virtual Performance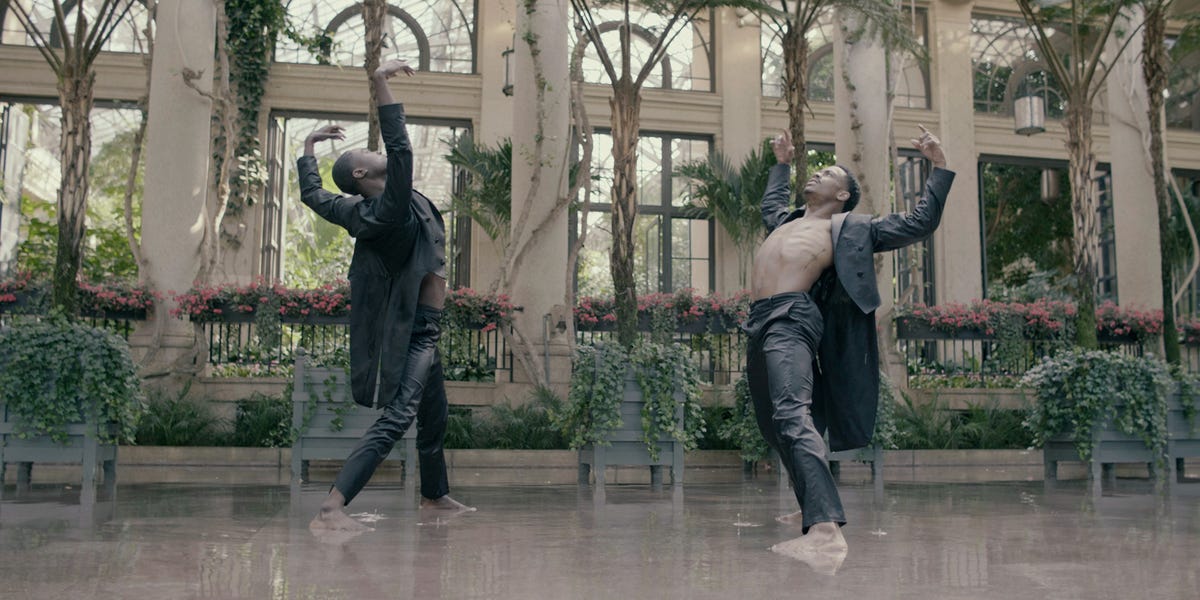 Few industries have been hit harder by COVID-19 than the performing arts. With venues closed indefinitely, dance and theater companies across the globe have had to develop new ways to bring their magic to the masses through virtual seasons and socially distanced shows. And while free streaming events from the likes of American Ballet Theatre, Alvin Ailey, and New York City Ballet provide a welcome and accessible way into live performance, one company's approach to digital programming stands apart from the rest.
Based in Philadelphia, BalletX is a contemporary ballet company known for its no-holds-barred choreography and experimental performance techniques. When the pandemic hit, its artistic and executive director, Christine Cox, needed to figure out a way to make content that people would not only seek out for its singularity, but that they would also pay for. As a solution, the company launched BalletX Beyond, a streaming platform on which it releases dynamic original dance films that can be accessed with a subscription starting at $15 per month.
This content is imported from YouTube. You may be able to find the same content in another format, or you may be able to find more information, at their web site.
"A lot of companies are giving away free content right now, and while that's incredible, we need to put more value on the arts," says BalletX dancer Ashley Simpson, who joined the company mid-pandemic after wrapping filming for Lin-Manuel Miranda's In the Heights—she will appear as part of the dance ensemble—releasing in 2021. "I saw a lot of other dance companies closing and laying off people, and dropping a lot of their programming, so I definitely was a little concerned. But Christine and the faculty at BalletX are very forward-thinking. When I got here, I realized that I had nothing to worry about."
Broadway and ballet heavyweight Robbie Fairchild, whom BalletX tapped to choreograph one of its November films, agrees. "Christine is major. She, in a pandemic, was able to keep her dancers employed. They haven't stopped working. That's just unheard of, that she was so determined to fight against the elements that we're dealing with these days," he says. "That's also the nice thing about being a smaller company—you're able to pivot and do really cool stuff, because it's not a massive ship that takes a long time to turn."
Every other month, BalletX releases a series of three films on its platform, each choreographed by a world-renown talent. November's releases included Saudade, a striking duet choreographed by Mariana Oliveira, who founded The Union Project Dance Company; New Heights, a high-energy routine by Amy Hall Garner, who has worked with Beyoncé and taught at American Ballet Theatre and Joffrey Ballet School; and The Cycle, an experimental ode to nature by Fairchild, whose résumé includes performing as a principal with the New York City Ballet, playing Munkustrap in the 2019 film Cats, and playing the lead in the Tony-nominated musical An American in Paris. Filmed at scenic locations across Philadelphia, many of which are outdoors, the shorts are an arresting combination of transportive cinematography and exquisite artistry guaranteed to captivate, no matter the viewer.
"At BalletX, they've just got their finger on the pulse of the cool stuff," says Fairchild, who previously performed alongside members of the company at Vail International Dance Festival. "They're humans dancing, they're not dancers. A lot of times, when dancers are classically trained, they forget that they're human. That's why they're so good at what they do—they're real people moving through space, and you can do some cool shit with that kind of material."
For his piece, Fairchild was inspired by Philadelphia's Longwood Gardens, which were recommended by Cox as a filming location. "It felt like an Alice in Wonderland–type space," notes Simpson, who was selected among others to perform the piece. Channeling his father, a wildlife biologist in Utah, Fairchild decided to transmute the thoughts and emotions of the natural world through movement—if you could understand birds and bugs and trees, what would their messages be?
"You only really care about something or somebody when you put yourself in their shoes," explains Fairchild, who taught his choreography over Zoom before traveling to Philadelphia from New York for rehearsals and filming. "I thought, What if we stepped into nature's shoes and saw all of the effort and struggle it takes for these plants and these trees to grow, to give us oxygen?"
The resulting work is five-plus minutes of sublime beauty. Clothed in whimsical Marchesa dresses and formal tuxedos ("In order to become Mother Nature, one would have to adorn themselves in the most beautiful gowns," explains Fairchild), dancers lie sprawled in a shallow puddle of water and entangled in tree branches, slowly twitching their fingers and stretching their limbs until they're standing upright, touching the sky with liberated ports de bras and sweeping developpés, seemingly becoming one with the world around them.
"It's such a beautiful work," says Simpson. "We took elements of a tree blowing in the wind, a tree reaching towards the sunlight, and explored how to invest in those feelings in that moment, and how to make it authentic for a dancer to be feeling the same energy as the tree next to them."
Tuning in to nature has been a theme for Fairchild during the pandemic. This summer, he launched a custom flower arrangement business, boo.kay, to help support the performing arts community. Based in New York, it employs Broadway performers who are out of work, teaching them how to create stunning arrangements available for local New York City delivery.
"When I realized that there was a market here for it and that people wanted to support the Broadway community, I was like, 'Every employee has to be a Broadway performer who has an affinity for flowers,'" says Fairchild, who, during his time in London while performing An American in Paris, took floral arrangement classes at The Covent Garden Academy of Flowers. "I think that dancers especially, have such a great awareness of movement, so it's really cool to watch them pick up flowers for the first or second time and just have a knack for it."
Up next, BalletX will release three new films, choreographed by Francesca Harper, Tsai Hsi Hung, and Manuel Vignoulle, on January 20.
This content is created and maintained by a third party, and imported onto this page to help users provide their email addresses. You may be able to find more information about this and similar content at piano.io