Contemporary
Contemporary alumnus Anthony Santos on his ballet career and embracing the unexpected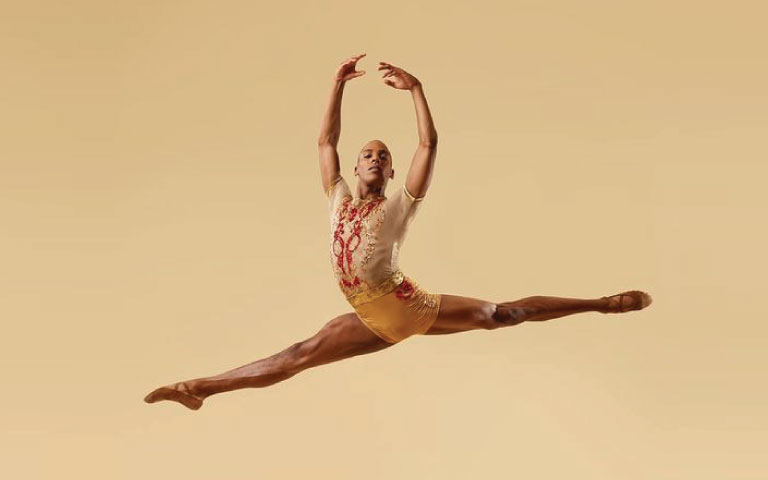 As a dancer, alumnus Anthony Santos (B.F.A. Dance '17) has come to embrace the unexpected. Santos has spent three seasons as a company
dancer with the renowned and innovative ballet company Dance Theatre of Harlem, despite early expectations of becoming a contemporary dancer.
Santos is also performing as a reimagined Drosselmeyer in UNCSA's 2020 production
of "The Nutcracker," and has navigated the other highs and lows of this year with grace and gratitude.
In the middle of a busy rehearsal schedule and ahead of his travels to Winston-Salem
to film "The Nutcracker," he hit pause long enough to reflect on his time at UNCSA,
viewing challenges as opportunities and what it means to put a fresh spin on a classic.
Memories of UNCSA
Santos began his dance career as a musical theater student in fifth grade in his hometown
of New York City. When he reached high school, his focus narrowed from musical theatre
to dance and he continued his education with Alvin Ailey American Dance Theatre for
several years.
When it was time to choose a college, he knew he wanted to go somewhere outside of
New York. "It was really important to me to branch out and experience another place,"
he says. He initially had his sights on the San Francisco area, but, he says, "The
School of the Arts was so generous and my mom really encouraged me to go there."
It was a decision he's glad he made. "It was a great experience," he says. "Winston-Salem
has this calm environment and you really get to enjoy just doing the work. In a place
like New York, there are so many distractions. At UNCSA, I could be in the studio
and really focus on my dancing."
Although he graduated in 2017 from the Contemporary program, Santos was influenced by his work with both the Contemporary and Ballet programs. He remembers performing in Winter Dance in 2016, where he danced in two
ballets. "I felt really blessed to be in both at once," he recalls.
He also performed in a piece by classmate Alvarez Delgado Jones (B.F.A. Dance '16)
during the annual Emerging Choreographers showcase. "I was in his senior piece and felt like the movement brought me out of
my comfort zone. I always enjoy a piece that does that," Santos says.
His teachers likewise had an impact on him as an artist. "Jennet Zerbe changed my life, honestly. The way I approach ballet is because of her," Santos says.
He was also influenced by Kira Blazek-Ziaii, Brenda Daniels, Misha Tchoupakov and former Dean of Dance Susan Jaffe.
The faculty at School of the Arts really care about the students and each teacher
that I had has changed my life and given me so much wisdom and support.

Anthony Santos
"I could say something influential about every faculty member I've worked with," he
says. "The faculty at School of the Arts really care about the students and each teacher
that I had has changed my life and given me so much wisdom and support."
Balancing a love for ballet and contemporary
As a student, he found himself constantly drawn to ballet and even considered switching
programs at one time. But, he recalls, "there just wasn't enough contemporary in the
ballet program." As a contemporary major, he felt he was better able to balance and
explore his love for both forms.
"I love ballet," he says. "I love tapping into movement that is outside of my comfort
zone and things that are challenging. And classical ballet is challenging." 
Still, after graduation, he says, "I was 100 percent sure I'd be in a modern company."
However, when the opportunity to audition for Dance Theatre of Harlem presented itself,
he couldn't turn it down.
"[Guest artist] Helen Pickett was setting a piece during my senior year," he remembers,
and Pickett overheard him talking about whether or not he should attend the Dance
Theatre of Harlem audition. "She so generously said she'd give me a recommendation."
So, he went to the audition and was offered the position.
The idea of dancing with a ballet company hadn't exactly been part of his expectations,
but "I had this opportunity to go home to New York and join this iconic company,"
Santos says. "It just felt like it was meant to be."
"I'm a big planner, but sometimes life doesn't go as planned," he adds. "You just
have to enjoy the ride."
Being part of "The Nutcracker"
Santos was honored when he received a call from Interim Dean of Dance Jared Redick over the summer to participate in this year's reimagined production of "The Nutcracker."
"He's taught so many students," he says, "and for him to ask me to do this, that's
something I don't take lightly. I'm so blessed and happy to be part of this."
Santos on the role of Drosselmeyer in the 2020 UNCSA production of "The Nutcracker."
When Redick shared his ideas about this year's production, Santos was taken in by
the excitement and possibility of a refreshed take on the classic ballet and UNCSA
staple.
"Drosselmeyer is a bit of a mad genius," he adds. "I get to tap into that character
and ask the question, 'Who is Drosselmeyer in 2020?' It's exciting to show people
that he can be different."
For Santos, embracing those changes and different performances is part of being an
artist in 2020. "I miss being on stage, but I'm grateful during these chaotic times
that I've had so many opportunities come my way … it's not the same, there's nothing
like dancing on stage. But it still brings joy."
Staying creative in 2020
In addition to his role as Drosselmeyer, Santos had the opportunity to perform at
Kaatsbaan Cultural Park in Tivoli, N.Y. this year, where he was invited by former
American Ballet Theatre principal dancer and UNCSA guest artist Stella Abrera. "She
invited me to perform a solo," he says, "and Mikhail Baryshnikov was in the audience.
I could never have imagined doing what I love doing with him in the audience. That
was a highlight of 2020."
He's also made sure to cultivate other hobbies and projects. "I've done a lot of designing
… I redesigned my balcony at my apartment. I think it's important to have other hobbies.
I love when I speak with other dancers and we can talk about books, art, albums –
what inspires them in other art forms."
As a self-proclaimed workaholic, he says, it's been important to slow down and enjoy
life. "Especially now, we have to remember to be thankful," he says, "and enjoy this
gift."
Get the best news, performance and alumni stories from UNCSA.
SUBSCRIBE TO OUR NEWSLETTERS