Contemporary
Classical Technique Meets Contemporary Mindset in Joffrey Ballet's Fast-Moving Mixed Bill | Chicago News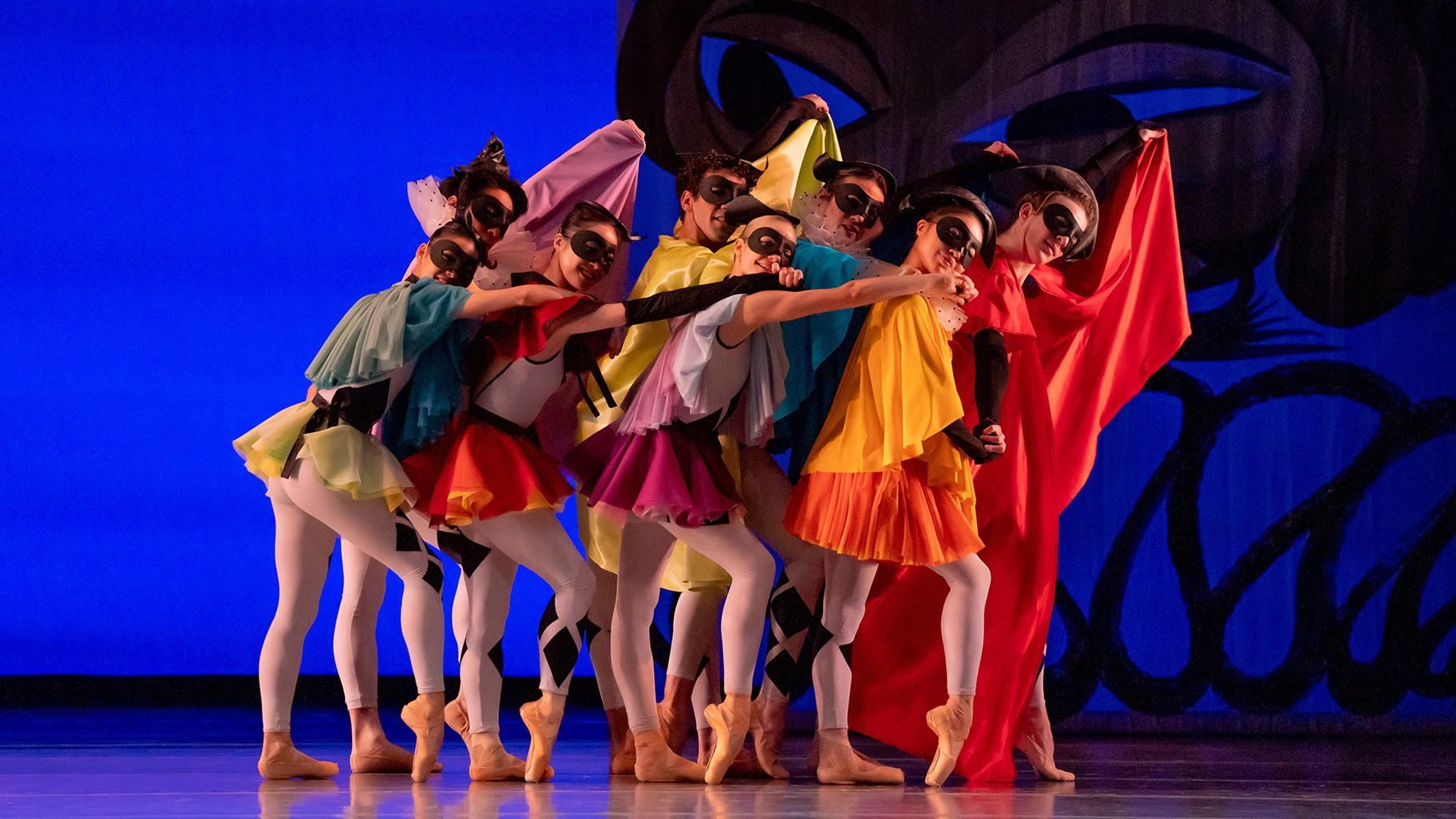 Joffrey artists Fernando Duarte, Greig Matthews, Stefan Goncalvez, Evan Boersma and Xavier Nunez in "Bliss!" (Photo by Cheryl Mann)

Throughout its history, the Joffrey Ballet's dancers have been renowned for their ability to create characters as well as to put their superb technical skills to work. And in recent seasons this has only been underscored in a slew of narrative ballets – from the recent "Jane Eyre" and "Anna Karenina," to the surreal "Midsummer Night's Dream," to reimagined versions of such classics as "Swan Lake" and "The Nutcracker."
The intriguing thing about the company having garnered all this experience in dramatic works is that they also are capable of carrying over their acting ability to contemporary "plotless" works, even if they can't always fully redeem some of the less than interesting pieces in this mode. "The Times Are Racing," this winter's "mixed bill" program at the Auditorium Theatre – comprised of five short works by four different contemporary choreographers – offers a clear illustration of the point.
Opening the program is Christopher Wheeldon's 2008 piece, "Commedia," a fittingly neo-classical riff on Igor Stravinsky's "Pulcinella Suite," which is itself an irresistible neo-classical piece that riffs on the music of several 18th century Italian composers. (It is beautifully played here by the Chicago Philharmonic, led by Scott Speck.)
Joffrey artists in "Commedia." (Photo by Cheryl Mann)

Wheeldon's work takes its inspiration from the commedia dell'arte tradition of improvisational street theater and its masked stock characters, including the mischievous Harlequin, recognizable by his diamond-patterned costume. (The program pays homage to the late Isabel Toledo, who designed the lovely costumes and masks, and whose husband, Ruben, created the set.)
In the ballet's nine brief sections, danced by an ensemble of eight, Wheeldon uses elaborate flexed and interwoven arm movements and deep plies, all done with a speed and sharpness of movement that suggests a quickness of wit. On opening night there was fleet dancing by the elegant Brooke Linford and her partner, Yoshihisa Arai; a Tarantella most winningly danced by Gayeon Jung and Yumi Kanazawa; and a terrific Gavotte performed in bravura style by Jung and her ever sensational partner, Edson Barbosa. And the piece seemed fresher and less precious than it did when the company performed it last year on the cramped Symphony Center stage.
The highlight of this program is two brief but brilliant pieces of fiercely demanding dance theater – balletic/acrobatic slapstick on the theme of dysfunctional relationships created by the Israeli choreographer and lighting designer Itzik Galili.
Joffrey artists Victoria Jaiani and Stefan Goncalvez in "Mono Lisa." (Photo by Cheryl Mann)

"Mono Lisa" (created for the Stuttgart Ballet in 2003) begins with a grand-scale lighting effect, the sound of a gravelly electronic score by Galili and Thomas Hofs that suggests serious friction, and the arrival of two superb dancers in rust-toned costumes who are in a decidedly love-hate, mutually controlling match-up.
As Stefan Goncalvez danced an elaborate solo, a haughty but not entirely disinterested Victoria Jaiani slowly and haughtily walked around the perimeter of the stage creating just the right level of attention and dismissal. The two then proceeded to engage in a complex duet that took full advantage of Jaiani's dazzling plasticity and daring, with her long limbs moving like windmills as she was expertly partnered in a series of extreme splits and lifts. A knockout final moment, not be revealed here, was an exercise in extreme skill and trust.
"The Sofa," a work created in 1995 for Portugal's Gulbenkian Ballet, is a wildly comic, crazily slapstick ballet about sexual attraction, rejection and orientation in which a large, bright yellow couch with big foam cushions is the crucial centerpiece.
Ingeniously set to Tom Waits' song, "Nobody," which takes on a brilliantly ironic quality here, it begins with the slam-bang antics of a macho man (Temur Suluashvili, a natural actor as well as a superb dancer, in terrific form), trying to manage his feisty little girlfriend (the sensational Anna Gerberich), who will have none of him, even if Waits' lyrics declare that "nobody will ever love you the way that I love you." Fast forward, the woman is gone, and a campy gay guy (the ideally over-the-top Fernando Duarte), appears on the couch, and is now in pursuit of the macho man just as he had been in pursuit of his girlfriend. Momentarily surprised, the macho man finds himself being relentlessly pursued in the same obsessive way he pursued his girlfriend. And in a zany twist he gets a taste of his own medicine. (The size-perfect casting for the work was ideal.)
Joffrey artists Anna Gerberich and Temur Suluashvili in "The Sofa." (Photo by Cheryl Mann)

In many ways, Galili's pieces felt like their own very contemporary versions of commedia dell'arte. The choreographer was on hand to take a bow and to applaud the dancers in both pieces.
Positioned between these two comic gems by Galili was a reprise performance of Stephanie Martinez's "Bliss!" which like "Commedia," was on last year's Symphony Center program, and is also set to music by Stravinsky in his neo-classical mode.
"Bliss!" is a pure dance piece in the style of many of Balanchine's ballets, with an exuberant opening section for six strong male dancers (Barbosa, Duarte, Goncalvez, Evan Boersma, Greig Matthews and Xavier Nunez), followed by a trio for Linford, Boersma and Goncalvez, a quintet for the exuberant Anais Bueno, Linford and three men, and, best of all, a duet by Bueno and the remarkable Barbosa, who easily lights up the stage with his megawatt smile and bravura technique. All that said, "Bliss!" is essentially a solid showcase for the dancers but nothing particularly memorable.
Joffrey artist Edson Barbosa and ensemble in "The Times Are Racing." (Photo by Cheryl Mann)

The final piece, and the one whose title more or less defines the program, is "The Times Are Racing," by Justin Peck, the much-heralded, 32-year-old dancer-turned-resident choreographer of the New York City Ballet whose work is high-energy and full of clever patterning, and serves as a solid showcase for the company's ensemble, but is hardly groundbreaking. (Just compare it, for example, with Jerome Robbins' masterful "Glass Pieces," which deserves a reprise in a coming season.)
The work features a lead ensemble of eight dancers (Jeraldine Mendoza, Dylan Gutierrez, the tireless Barbosa, Matthews, Bueno, Nunez, Nicole Ciapponi and Christine Rocas), plus a dozen others. They wear sneakers and are dressed in colorful athleisure-style outfits and millennial urban rags, including sweatshirts emblazoned with the words "Change," "Defy," "React."
In many ways the piece, with its music of angst, defiance and celebration, and its nod to pop culture (with a score by Dan Deacon), felt like a throwback to some of the work of Joffrey co-founder Gerald Arpino in his "youth culture" 1960s days. It ends, understandably, with all the dancers exhausted and collapsed on the floor.
The Joffrey Ballet's "The Times Are Racing" program runs through Feb. 23 at the Auditorium Theatre, 50 E. Ida B. Wells Drive. For tickets ($35-$197) call (312) 386-8905 or visit joffrey.org. Running time is 2 hours and 5 minutes with two intermissions.
Follow Hedy Weiss on Twitter: @HedyWeissCritic
---