Creative
Blankenbuehler's virtual master class from his room, where it happens · School of Dramatic Arts · USC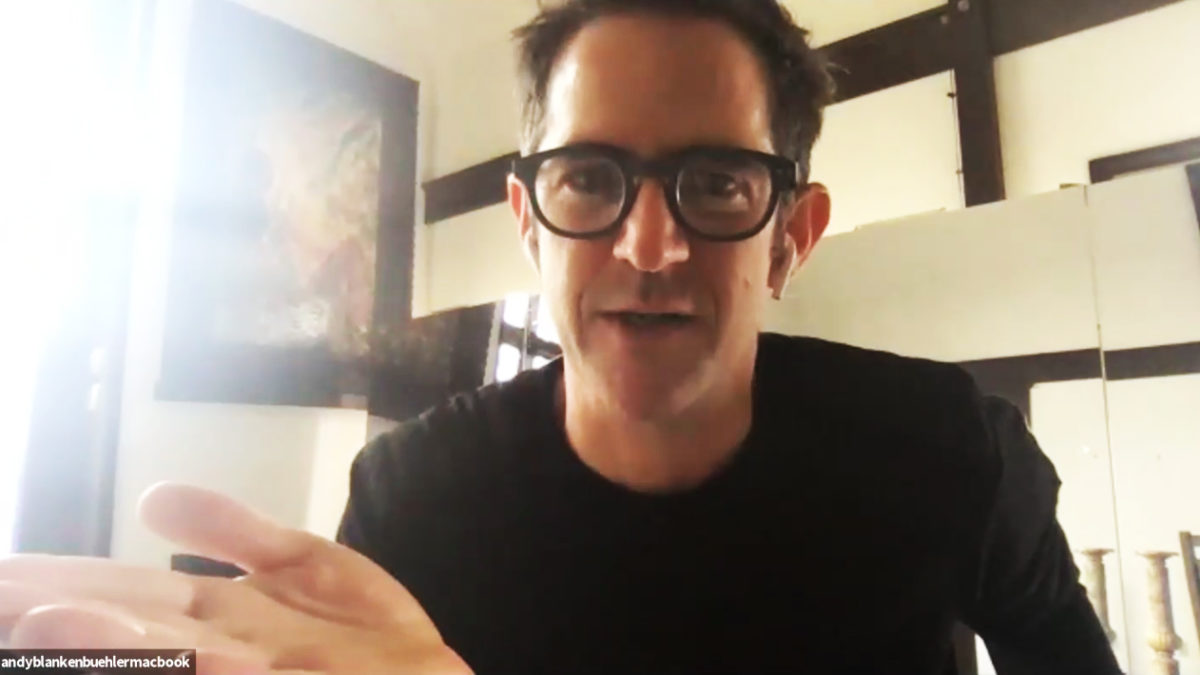 By Rickey Orr
April 20, 2020
Last week, the BFA Musical Theatre program learned a few virtual moves from Broadway choreographer Andy Blankenbuehler. In a Zoom meeting with the inaugural cohort, the three-time Tony-winner for Best Choreography taught steps from "The Room Where It Happens" from Hamilton. 
Blankenbuehler is a household name among musical theatre lovers. The director, choreographer and actor first appeared on Broadway as Quito and a Gypsy Dancer in the 2002 revival of Man of La Mancha. Since then, he has choreographed the original Broadway productions of Hamilton, In The Heights, 9 to 5; revivals of The Apple Tree, Annie, Cats; and directed and choreographed the original productions of Bring It On: The Musical and Bandstand.
Instead of teaching the steps without context, Blankenbuehler shared with students the history behind the dance and the process it took to choreograph. The dance itself, one of many in Hamilton, underwent many revisions as the musical approached its final shape.
The Tony-winner taught students how to analyze the orchestrations as a way to understand the movement of the piece. To him, the individual instruments provide subtext that inform the melody. Likewise, the movement he creates on stage is physicalized orchestrations of those very instruments.
In order to do this, Blankenbuehler reminded the class to keep the choreography refined and rooted. He choreographs movement that can act as subtext rather than flashy numbers, so that the audience isn't distracted by the dance. Instead, the movement helps viewers to better understand the story. He asked the students to keep their movements specific, for clarity and style.
"Dance long and small. The bigger you dance, the more it looks like [performative] dancing," he said.
Blankenbuehler has become known for this subtler style; he leaves out the big production numbers one might expect from a Broadway show.
"We don't want them to ask, 'why is that character dancing?' We just want them to take off their seatbelt and see our physicality as physicalized thought or physicalized emotion."
The class, taught by faculty member Kathryn Dunn, moved online last month due to preventive measures to slow the spread of COVID-19. With the students learning from their bedrooms at home, it seemed the perfect time to be learning small and natural movement from one of Broadway's best. Dunn has since brought more guest choreographers in to teach via Zoom conference, including Josh Bergasse from NBC's Smash.
The BFA in Musical Theatre offers unparalleled opportunities for interdisciplinary collaboration and creativity by blending the extraordinary resources of three of the nation's leading arts schools: USC School of Dramatic Arts, USC Glorya Kaufman School of Dance, and USC Thornton School of Music. With its expert faculty, modern curriculum, and proximity to the country's entertainment capital, this degree provides optimal training for those students whose destination is the stage, the screen, and beyond.