Visual Arts
'Anything that's creative and art-centric I want to dip my toes into,' Bethel musician says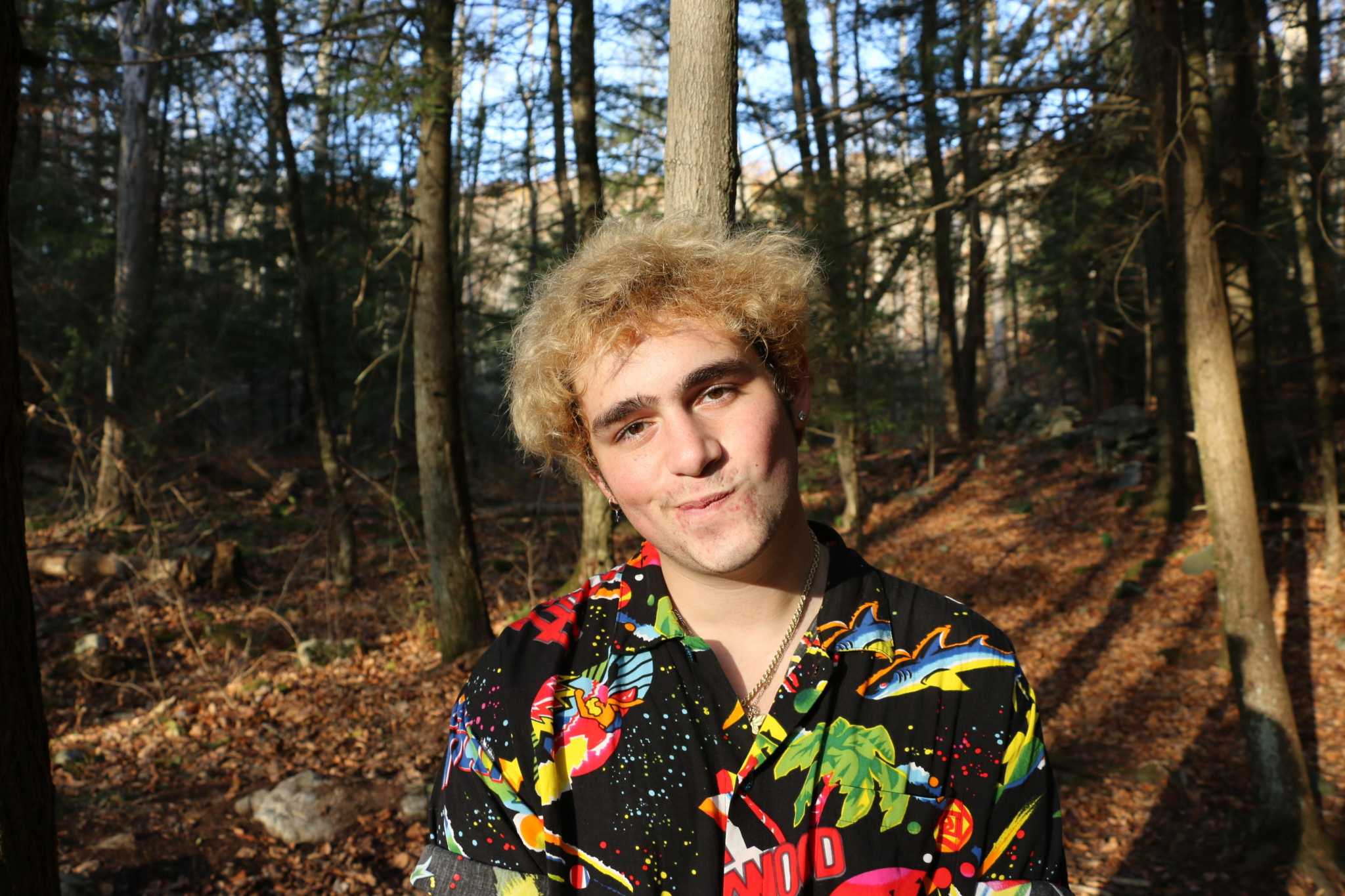 Calvin the Kid has gravitated to music since a young age.
He wrote songs about basketball and skateboarding, attended band camp, performed in musical theater and choir in school, and played in a youth band at local restaurants.
"Music has been a thing for me as far back as I can remember," said Calvin, the stage name used by Mikolo Schlanger of Bethel.
During his senior year at Bethel High School, he took a digital music production course. "There's kind of a switch that clicked," he said of the experience.
Calvin began practically living in the school's recording studio — skipping classes at times to do so — to experiment and learn about music software. He decided it was time to write and sing his own songs, not only those created by others.
"I just became obsessed with making music," he said.
Now age 20, Calvin the Kid has released his first full-length album, "Sunset Valley." All nine tunes are available on major streaming services. Song titles include "Party in the Suburbs," "Minivan," "Soccer Mom," "Trust Issues" and "Clingy."
The music can be described as indie and alternative pop, with some rock, hip-hop and punk influence. "I try to make songs that are catchy with a good chorus," Calvin said.
His publicity material calls the album "a passion project that has been fully funded, executed, recorded, arranged, marketed and created by me." The album focuses "on exactly who I was as a person, what my upbringing was like, and the environment that surrounded me. It was about being transparent and as real as possible. That's why it took so long."
He remade the album two or three times to get it right, coming up with completely new songs in the process.
"This has to be something I can look at and say, 'I'm proud of this. This is me. This isn't me pretending to be someone,'" he said.
His goal was to be relatable to his listeners and not create a music persona about being rich and living extravagantly, which he believes too much music does today.
"I'm talking about all the under-the-surface problems people face in small towns or a suburban setting," he said. "Maybe someone can see themselves in this album."
To create songs, Calvin finds an instrumental he likes on the internet and then "freestyles" over it. "I kind of let the music flow through me and just say whatever comes into my head," he said of the spontaneous approach.
He refines the lyrical and musical components, altering the words to better match the beat. "It's kind of like a puzzle piece where you have to fit it all together to make it sound good," he said.
Once a song is completed, he purchases or leases the instrumental music to use for streaming purposes. Promotion is done through social media, including TikTok due to the younger demographic. Calvin tries to get his songs on the playlists of others, especially those with prominence or large followings. Previously, he released an EP or mini-album featuring six songs with friend Alex Mills and put out seven singles.
Calvin grew up in a creative family in Bethel. His father is an engineer, designer and inventor while his mother constantly exposed him to theater and performance art. His paternal grandfather is a painter and sculptor. He preferred music over the visual arts, taking vocal and guitar lessons. His mother brought him to New York to see many plays and unique artistic performances, from improvisation to magic shows.
His musical interests grew stronger after high school. "I wanted to be taken more seriously than just a kid in his bedroom making music," he said.
A sophomore studying psychology and English at Western Connecticut State University, Calvin plans to earn a college degree while pursuing a musical career. "I'm the type of person who likes to be prepared no matter what," he explained.
He's worked as an EMT and pharmacy technician and built a home music studio with the earnings."You have to invest in yourself," he said.
Calvin hopes to soon make a music video, create "Sunset Valley" merchandise, produce a podcast and then release another album, and eventually to make a movie and perhaps write a book. "Anything that's creative and art-centric I want to dip my toes into," he said.
Calvin designed his own Cyberspace Collection clothing line through a music company that ran an Instagram musical competition in which he did well. It includes about 700 clothing pieces and is available through his website.
The business, marketing and promotional aspects of art interest him as well as the creative side. He likes "creating a product and then a story around it," he said.
He's also thinking about converting an old school bus into an off-grid tiny home and traveling to the American West and Alaska. "There are some beautiful places in this country I've never seen," said Calvin, who's been overseas many times.
While the ongoing pandemic delayed his clothing line and obviously caused stress and pain for many, he said, it may have helped his musical pursuits by allowing him "to really sit down and have the time to focus on it."
Learn more about his music and other pursuits at calvinthekid.com.
Brad Durrell is a freelance writer.